A leading Russian journalist has been severely injured in a brutal attack that his editor believes was linked to his work.
President Dmitry Medvedev has called for a thorough investigation into the beating of 30-year-old Oleg Kashin, who remains hospitalized in a coma.
The attack left the well-known reporter with two broken legs, mangled fingers, a damaged skull, and multiple jaw fractures.
Blood on the asphalt at Paytnitskaya Street 28 where Kashin was beaten
Kashin, a political journalist with Russia's best-respected news daily "Kommersant," was attacked near his Moscow apartment by two men who witnesses say had waited for him with a bunch of flowers. The Russian website lifenews.ru has
posted CCTV footage
that it says shows the savage nature of the attack.
Doctors have put the 30-year-old reporter into an induced coma and placed him in intensive care. Kashin's wife says a second operation on her husband, performed on November 7, appears to have gone well.
"Kommersant" editor Mikhail Mikhailin said he was shocked by the violence of the attack.
"There are witnesses. One of his neighbors heard what happened. She said Oleg was beaten not with bare hands but with heavy objects," Mikhailin said. "I think it could have been metal objects or baseball bats because it's impossible to break someone's legs with bare hands."
Indeed, the video posted by lifenews.ru shows two attackers using a club and other heavy objects during the assault.
Within hours of the attack, Medvedev ordered the prosecutor-general and the interior minister to "take special control of the investigation."
"The criminals must be found and punished," Medvedev said on Twitter.
A criminal case was opened for attempted murder.
Protests were held on November 7 in Moscow and St. Petersburg, calling on Russian authorities to bring to justice those responsible for the attack.
In Moscow, a demonstration was held outside the central police headquarters on Petrovka Street. Hundreds of journalists, students, activists, and others have signed an appeal to Medvedev,
posted on the Russian culture website openspace.ru
. Citing the recents deaths and beatings of reporters, it says "journalists are an indicator of the state of society."
In St. Petersburg, activists from Yabloko and Solidarnost and others marched down Nevsky Prospect in support of Kashin.
High-Profile Murders
Rights groups have criticized Russian authorities for failing to solve a string of high-profile murders of journalists, including the 2006 slaying of Kremlin critic Anna Politkovskaya.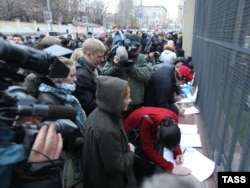 People protest outside the central police headquarters on Petrovka Street on November 7, demanding a thorough investigation of the assault.
Russia is one of the most dangerous places in the world for reporters, with 19 unsolved murders of journalists in Russia since 2000, according to the Committee to Protect Journalists.
The motive for the attack on Kashin remains unclear, but his colleagues believe it was retaliation for his reporting.
An official of Russia's journalists' union, Mikhail Fedotov, who is also the chairman of the Presidential Human Rights Council, said there was "no question" but that the attack was tied to Kashin's professional activities.
Mikhailin said it could be linked to Kashin's coverage of banned opposition groups.
"Hooliganism and robbery are excluded because Oleg had expensive things with him, including an iPad, a mobile phone, money, and documents, which the attackers did not steal," Mikhailin said. "This was linked exclusively to his professional activities. Oleg carried out various investigations, including into the activities of informal youth organizations."
The editor did not offer more details.
Kashin also covered a sustained opposition movement against the construction of a highway between Moscow and St. Petersburg that would cut through the Khimki forest on the edge of the capital.
His beating comes just two days after Khimki activist Konstantin Fetisov was
attacked near his home
. He remains hospitalized in severe condition.
Yevgenia Chirikova
, the driving force behind the protest against the proposed highway, says the two attacks could be linked.
"I don't exclude it, because this project involves corruption. And where there's corruption, there are criminal interests," she said.
A local newspaper editor who actively campaigned against the highway also fell victim to a vicious attack in 2008 that left him severely brain damaged. One of his legs also had to be amputated.

with reporting from RFE/RL's Russian Service