WASHINGTON -- U.S. Undersecretary of State for Political Affairs William Burns has said that the new START treaty signed by the United States and Russia is the product of a "more mature relationship" between the two countries.
Burns, a former U.S. ambassador to Moscow and one of the main architects of the White House's "reset" of relations with Russia, made the comments on April 14 at the Center for American Progress, a Washington policy think tank.
Burns said U.S. President Barack Obama's Russia strategy aims to take an independent approach to each issue.
"We assumed that it was possible -- indeed, essential -- to try to pursue each of the issues before us on its [own] merits," he said. "We were not so naive as to think that areas of agreement and common ground could be fully insulated from areas of disagreement and friction, but our starting point was that problems in one area of our relationship should not preclude progress in others."
He said that the clearest example of the success of that approach was the signing of the new START treaty on April 8.
The agreement significantly reduces both nations' arsenals of strategic nuclear warheads and was agreed after several months of negotiations.
"Over the past year, President Obama and President Medvedev have made a promising new start, beginning to move beyond past frustrations and grievances and producing tangible results," said Burns. "The new START agreement, which they signed in Prague six days ago, is the most impressive and most fittingly named example."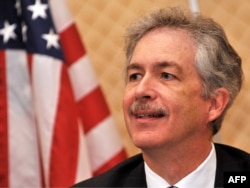 U.S. Undersecretary of State for Political Affairs William Burns
Burns said the administration plans to build on the successful START negotiations as a model for expanded cooperation.
But he warned against interpreting the improved working relationship between Washington and Moscow as a signal that the United States has softened its moral stance.
Disagreements Remain
Critics have accused the White House of minimizing human rights abuses and territorial aggression in Russia for the sake of cooperation in other areas, including on Obama's nonproliferation agenda.
Burns said the United States was not "pulling our punches."
"The United States will also continue to be plainspoken and unapologetic about our interest in universal human rights and our conviction that democratic institutions and the rule of law are the keys to unlocking the enormous human potential of Russia, America, and any other society in the 21st century," he said.
The U.S. diplomat added that the United States and Russia fundamentally disagree on the status of Georgia's breakaway regions of Abkhazia and South Ossetia, which Russia recognized as independent states after its 2008 war with that country.
But Burns insisted that relations between Washington and Moscow have improved significantly since their post-war low point, despite remaining differences.
Over the past year, he said, Obama and Medvedev have met in person seven times and shared sixteen "substantive" phone conversations.
Discussions have touched on Iran sanctions, shared intelligence, counternarcotics initiatives, and Afghanistan, he said, and have benefited from the two country's improved relations. Burns said now is "the first time in a long time [that] the possibilities before [the two countries] outnumber the problems."
For one thing, higher levels of trust between the United States and Russia could create the foundation for better economic ties, he said, which could be used to help boost what he called the "paltry" level of trade between the two nations.
U.S.-Russia trade last year amounted to some $24 billion, he noted. By comparison, trade between the U.S. and China amounts to more than $250 billion.