The trial of two Azerbaijani bloggers arrested on charges of hooliganism has begun in Baku in a case that rights groups say is an attempt by authorities to stifle dissent.
RFE/RL's Azerbaijani Service reports that the bloggers, Emin Milli, 30, and Adnan Hajizada, 26, told the court that they were arrested for political reasons. Milli said he had been arrested for his critical views on the
March referendum
and other issues.
The bloggers' lawyers petitioned for the judge to return the case to the preliminary investigation stage, but the request was rejected.
At the same time, the prosecution petitioned the judge to hold the trial behind closed doors, claiming that "the bloggers are engaged in political activity and some state secret could be revealed in the process."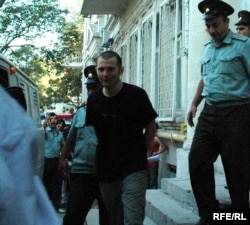 Blogger Adnan Hajizada arrives in court
The court rejected the prosecutor's petition, as well.
The judge set the next trial day for September 16.
The two men face up to five years in prison if convicted.
Milli and Hajizada are charged with disorderly conduct and inflicting bodily harm in an altercation in a Baku restaurant on July 8. They have been in detention ever since.
The bloggers' supporters say the charges are politicized and that the youths were arrested for their criticism of the authorities.
Some days prior to the incident, Hajizada placed a
satirical video on the Internet
praising the Azerbaijani government for offering benefits to donkeys and posing the question: "What about the human rights?"
The European Union has expressed concern over the case, and international rights watchdogs have warned of a crackdown on online media in the tightly controlled former Soviet republic.
"It's really giving out a signal -- don't try to organize yourselves, don't try to come up with means of public debate and particularly don't try new media," says Nathalie Losekoot, senior Europe program officer at freedom-of-expression watchdog Article 19.
Freedom House Executive Director Jennifer Windsor said in a statement, "This case fits a disturbing pattern under which independent journalists and others seeking to express themselves end up in the criminal justice system."
Azerbaijani authorities deny it is politically motivated, saying it's "an ordinary hooliganism case."
Today's pretrial hearing was open to the public, but some journalists, human rights defenders, and diplomats were not allowed entry as the court did not allow additional seating.
A second trial related to the bloggers also started in Baku today. The youths' parents brought a lawsuit against the police for not giving them a meeting with their sons.
That trial was adjourned until September 14, with the judge citing insufficient knowledge of the case. The judge said he was provided relevant materials only a few days before today's session.
Reuters contributed to this story