ALMATY (Reuters) -- Twelve Kazakh homeowners behind in their mortgages repayments went on a hunger strike demanding a halt to property repossessions by banks, a rare sign of protest in the Central Asian state.
Banks in Kazakhstan, which last month devalued its currency by 18 percent in response to falling crude prices, are stepping up foreclosures on insolvent borrowers' homes as the global economic downturn bites.
"Stop the banks and collectors from repossessing homes pledged as collateral and filing eviction lawsuits," activist Ainur Kurmanov said as he read out the protesters' demands.
Rising home repossession levels elsewhere in the world, particularly in the United States, were one of the first obvious indicators of poor financial health.
The average cost of a two bedroom apartment in Almaty ranges from $50,000 to $200,000 depending on location, while average incomes are about $400 a month.
Kazakh banks and their customers borrowed heavily, mostly in dollars, during the global credit boom and all are now struggling to make repayments.
The group, most of them women, were sitting in a small apartment in Almaty with a large poster on one of the walls that read: "Government, help your people!" All wore headbands with the words "hunger strike" written across.
Small, but vocal groups of troubled homeowners that also include those who had bought off-plan apartments, which were never completed, have quickly drawn public attention in the country where open protests are unusual and tightly controlled.
Analysts say that although there have been only small-scale protests so far, the growing discontent is a concern to the government and President Nursultan Nazarbayev, whose popularity was linked with rising incomes seen between 2000 and 2007.
Kazakhstan's economy grew at about 10 percent a year during that period. Growth slowed to 3.2 percent in 2008 and the government sees it at 2 percent this year, while some analysts say there is a risk of recession.
The government has earmarked $3 billion to help construction firms complete pre-sold apartment blocks, but many building sites in the capital Astana and business hub Almaty remain empty, with abandoned cranes dotting the skyline.
The state has also offered to refinance mortgages to lower interest rates, but only a fraction of borrowers are eligible under the program's strict terms.
"Ignoring the problems of mortgage borrowers will only raise the social tension and lead to more protests," the protesters said in a written statement.
World Economic Crisis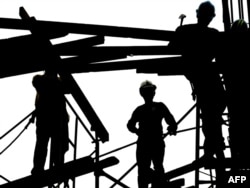 Multimedia coverage on the impact of the global financial crisis on markets and individuals across RFE/RL's broadcast region. More