Turkish Entry Wins Best Film At Berlin Festival, Polanski Wins Best Director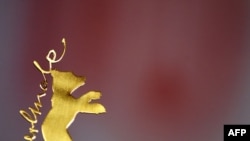 Turkish film "Bal" (Honey) was the surprise winner of the Golden Bear -- the top prize at the 60th Berlin Film Festival -- and Roman Polanski was crowned best director for his political thriller "The Ghost Writer."

The prizes were awarded late on February 20.

"Honey," directed by Semih Kaplanoglu, tells the story of a lonely 6-year-old boy who wanders into the woods looking for his father, a bee-keeper, who has gone missing.

Kaplanoglu thanked the jury for the prize and warned over Turkey's threatened environment near the Black Sea coast, the setting of much of the film.

"I hope with this prize we have received this evening, we manage to protect the environment there as well," he said.

The Silver Bear prize was picked up by the producer of the film, Alan Sarde, who said Polanski would have been happy with the honor. Polanski completed the political thriller while in jail and under house arrest.

"When I was lamenting that [Polanski] can't be with us, he said to me even if I could, I wouldn't [come], because the last time I went to a festival to get a prize, I ended up in jail," Sarde said.

Sarde was referring to Polanski's detention by Swiss authorities in September when he went to Zurich to receive a life-time achievement award and ended up in jail while a ruling on a U.S. extradition warrant was considered.

'Show Of Support'

RFE/RL's Radio Farda correspondent Amir Nikfarjam, who was in Berlin to cover the film festival, said that the award is being seen as a signal of support for the director.

"By giving this prize to Polanski the Berlin Film Festival and particularly its jury, led by German director Werner Herzog, sent a signal to judiciary officials in Switzerland and in the United States. Many artists have protested against Polanski's judicial case and have called for his release," Nikfarjam said.

Switzerland has announced it will not decide whether to extradite the 76-year-old until an appeal over his U.S. trial is resolved. Polanski was convicted in 1977 in the United States of unlawful sex with a minor. He left the United States for France before the sentencing and has never returned since.

Polanski's "Ghost Writer," which critics have said is a return to classics such as "Rosemary's Baby" and "Chinatown," is the story of a writer who is hired by a former British prime minister to shape his memoirs. The former prime minister, modeled on Tony Blair, is being probed for war crimes over the torture of terror suspects.

The runner-up jury prize went to Romania's prison drama "If I Want to Whistle, I Whistle" featuring a cast full of amateurs.

The Silver Bear for best actor was shared by Grigory Dobrygin and Sergei Puskepalis, the stars of the Russian Arctic drama "How I Ended This Summer." The film is about two men working at a remote weather station completely cut off from the outside world.

The award for best actress was given to Japan's Shinobu Terajima, for her role in the film "Caterpillar" as the wife of a decorated World War II soldier who returns home from the Sino-Japanese war severely disabled.

A Chinese drama "Apart Together" that tells the story of a Taiwanese veteran who reunites with the love of his life after more than 50 years of separation captured best screenplay.