ISTANBUL (Reuters) -- Turkish Prime Minister Recep Tayyip Erdogan received a hero's welcome on his return to Istanbul after he stormed out of a heated debate on Israel's Gaza offensive at the World Economic Forum in Davos.
Thousands of people gathered at Istanbul's Ataturk airport to greet Erdogan when he returned, waving Turkish and Palestinian flags and chanting "Turkey is proud of you."
After a fiery exchange with Israeli President Shimon Peres on January 29 in which he said: "When it comes to killing, you know very well how to kill," Erdogan said he might never return to the annual gathering of the rich and powerful in the Swiss resort.
During a debate on the Middle East, Peres had launched a passionate defense of his country's assault on Gaza over the past month and, with a raised voice and pointed finger, asked what Erdogan would do if rockets were fired at Istanbul every night.
"Our people would have expected the same reaction from any Turkish prime minister," Erdogan told a news conference at Ataturk airport on January 30.
"This was a matter of the esteem and prestige of my country. Hence, my reaction had to be clear. I could not have allowed anyone to poison the prestige and in particular the honor of my country," he said.
"Our reproaches are not against the Israeli people or Jews. Our reproach is totally against the Israeli administration," Erdogan said.
Turks gave a mixed reaction to Erdogan's walk-out, former diplomats saying it was likely to fuel tension between Israel and Turkey and might weaken Ankara's position as a neutral mediator in the Middle East.
"The spirit of Davos died," said a headline in the top-selling "Hurriyet" newspaper. "A historic slap," the "Yeni Safak" daily, which has close links to the AK Party, said of Erdogan's strong criticism of Israel.
'A Hundred Rockets'
Peres had asked Erdogan directly: "What would you do if you were to have in Istanbul every night a hundred rockets?"
Erdogan, visibly angry, had responded strongly to Peres's repeated question to the panel of what they would do in Israel's position.
"President Peres, you are older than me and your voice is very loud. The reason for you raising your voice is the psychology of guilt. I will not raise my voice that much, you should know that. When it comes to killing, you know very well how to kill. I know very well how you hit and killed children on the beaches," Erdogan said during the panel discussion.
A World Economic Forum spokesman confirmed Peres and Erdogan had since spoken by phone and considered the matter closed.
"I am very sorry for what happened and friends could sometimes have an argument between themselves. I have always had a great respect for the Republic of Turkey and you as the prime minister," Peres told Erdogan, according to state-run Anatolian news agency, citing diplomatic sources.
Predominantly Muslim Turkey, which has close ties with both Israel and the Arab world, has harshly criticized Israel over its Gaza offensive, in which Israeli forces killed more than 1,300 Palestinians, for the loss of 10 soldiers and three civilians.
Erdogan's rhetoric has shocked Israel, and has been interpreted by some as an attempt to increase his support ahead of local elections in March with an electorate deeply sympathetic to the Palestinians.
"Prime Minister Erdogan's tantrum at Davos throws gasoline on the fire of surging anti-Semitism," American Jewish Committee Executive Director David Harris said in a statement.
Anger At Israel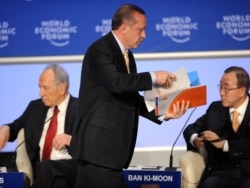 Anger At Israel
Turkish Prime Minister Recep Tayyip Erdogan stormed out of a debate with Israeli President Shimon Peres at the World Economic Forum in Davos, Switzerland. He was later welcomed by cheering supporters when he returned home to Istanbul. Video By Reuters. Play