Andrei Zatoka's harsh five-year sentence for assault has been overturned and replaced with an undisclosed fine, marking the second time in three years the prominent Turkmen environmental activist has narrowly avoided going to prison for what he believes were trumped-up charges.
A regional court in Turkmenistan's northern Dashoguz Province overturned the sentence handed down last week against Zatoka for assault, RFE/RL's Turkmen Service reported from the court hearing. The court ruled that Zatoka, 53, be freed upon paying an undisclosed fine.
Zatoka was found guilty on October 29 of attacking a man nine days earlier in a Dashoguz market, and received the maximum available sentence for the assault charge.
Zatoka has denied the charges, claiming that he was the victim of an unprovoked attack at the market, and that he inflicted no bodily harm on the alleged assailant. When police arrived, Zatoka claims, they let the other man go and detained him in what he believes was a politically motivated setup.
Both rights and environmental groups say the fact that Zatoka, whose environmental group was shut down by the state in 2003 and who is currently serving a suspended three-year sentence owing to another politically charged case, has been under pressure from the authorities for years.
Supporters say the case is an example of the Turkmen government's lack of tolerance for independent activism, and highlights the difficulties environmental and rights activists endure throughout Central Asia.
"Throughout Central Asia, environmentalists and [civil society] activists as a whole face personal persecution," says Michelle Kinman, deputy director of the Virginia-based nongovernmental organization Crude Accountability, which focuses on environmental justice.
"They face threats to their own livelihood, their employments, if they continue with their activism. They are often threatened indirectly as their relatives and friends may face similar persecution."
Little Tolerance For Dissent
The situation is particularly grim in Turkmenistan, considered one of the world's most repressive states. President Gurbanguly Berdymukhammedov, who came to power in late 2006 after the death of Saparmurat Niyazov, has pledged to implement reforms, but critics say little has changed so far. With the 2003 NGO law, there's no officially registered independent groups that are able to operate openly within the country.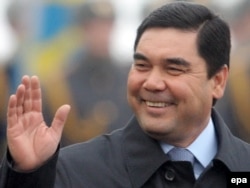 Turkmen President Gurbanguly Berdymukhammedov has talked of change, but has delivered little, critics say.
Zatoka, a biologist by training who holds dual Russian and Turkmen citizenship, sent a letter to Russia's ambassador in Ashgabat ahead of last week's court hearing.
In the letter, published by the Turkmen opposition website chrono-tm.org, Zatoka requested "diplomatic and legal support in connection with repression against me by the law enforcement bodies, which is politically motivated and is because of my Russian citizenship."
He also said it was unclear why he was being targeted by the authorities, but that "I can only guess that it is linked to the fact that I was closely familiar with some Turkmen dissidents, particularly Farid Tukhbatullin."
Zatoka and Tukhbatullin co-founded the Dashoguz Ecology Club in 1992. The environmental NGO was shut down in 2003, when the Turkmen government cracked down on civil society.
After spending several months in jail, Tukhbatullin left the country, and now heads the Turkmen Initiative for Human Rights in Vienna, Austria. He tells RFE/RL's Turkmen Service that Zatoka continued campaigning on environmental issues in Turkmenistan.
"As far as I know, he continued his [independent] activity on environmental education working with schoolchildren and farmers," Tukhbatullin says. "He tried to explain to farmers what is ecological farming, how to make fertilization in order to get better harvest."
Zatoka spent 1 1/2 months in prison in 2006-07 on charges of weapons possession and storage of poisonous substances. After he was taken into custody at Dashoguz's airport, three snakes, snake poison, and an unregistered weapon were reportedly found at his home.
A letter posted by Russian human rights groups that came to his defense noted that, as a herpetologist, Zatoka had the "right to store the poison of studied reptiles and a light pneumatic weapon."
Zatoka's case was followed closely by Russian rights groups and the Kremlin. The Russian and Turkmen foreign ministers discussed Zatoka's situation, and a rights watchdog under the Russian presidency took an active role in trying to secure his release.
In the end, Zatoka was released after being handed a three-year suspended sentence, which effectively banned him from leaving the country.
Regional Trend
The obstacles encountered by activists like Zatoka are not unique to Turkmenistan. Instances of persecution against environmentalists and rights activists are common in neighboring Central Asian states as well, especially when the methods that are being used in economically lucrative extraction projects are being questioned.
In Uzbekistan, for example, civil society groups are subject to strict official oversight. The establishment of the social activist Ecological Movement of Uzbekistan in 2008 exemplifies how the environmental cause can be co-opted. President Islam Karimov has allocated 15 parliament seats to the group, a creation of the state, ahead of the December general elections.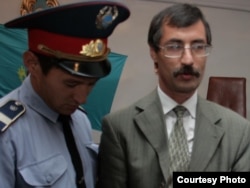 Kazakh activist Yevgeny Zhovtis says his sentence was politically motivated.
In Kazakhstan, leading human rights activist Yevgeny Zhovtis was recently transferred to a labor camp after receiving the maximum sentence for vehicular manslaughter after striking and killing a man in a car accident. The United States has been critical of the harsh sentence, coming just months before Kazakhstan is to take over chairmanship of the Organization for Security and Cooperation in Europe (OSCE).
Svetlana Anosova, the leader of a community group in northwestern Kazakhstan, has faced threats from local government authorities and police. Residents of the village of Berezovka are fighting for relocation and compensation from the environmental harm that they have incurred from the emissions from the nearby Karachaganak oil and gas field.
In 1998, a truck belonging to Kyrgyzstan's Kumtor gold mine overturned on a mountain road, spilling more than a ton of cyanide into a river that supplies water to many of the villages on the southern shore of Lake Issyk-Kul.
The environmental NGO Karek has been campaigning for compensation for local residents and for the use of environment-friendly methods at Kumtor. Its head, Erkingul Imankojoeva, tells RFE/RL's Kyrgyz Service about the intimidations that members of the group, mainly women, have faced since 2002.
Imankojoeva says the authorities "detained all the women activists, about 20 of them," and took blood from them using a single syringe. She says they were beaten, leaving some in serious condition, and that half of them left the area due to official harassment.
"They even went to my family and my parents. They were from KGB, today's National Security Service. They shot our house with their video camera," Imankojoeva says. "They also told our neighbors that if they had a daughter like me, they would shoot her. And they forced the neighbors to tell this to us."
Activists vs Stability?
Crude Accountability's Kinman says environmental groups, including NGOs, community groups, or neighborhood committees, play an important role in developing more sustainable societies in promoting the concepts of civil society.
But she says some governments are concerned when the citizenry is getting involved in environmental issues with the intention to make their voices heard.
"Some governments do see citizens taking an interest in their own well-being and participating in environmental decision-making as a threat to the stability of their countries," Kinman says.
"However, I would argue that in order to attain a stable population, you want to have you citizenry actively engaged in the decision making process that affect their livelihoods."
Central Asia's environmental groups are facing many challenges, including financing, membership recruitment, strategic planning, cooperation among themselves, and relationship with government authorities. A number of them are nonetheless making great efforts -- sometimes with success -- to make positive changes.
Kazakhstan's Supreme Court ruled in 2008 in favor of the Almaty-based NGO Green Salvation in a precedent-setting lawsuit seeking access to environmental information about atmospheric emissions at Karachaganak. One month later, the provincial administration provided the requested information.

RFE/RL's Turkmen and Kyrgyz services contributed to this report