There will be several notable firsts when Turkmenistan holds parliamentary elections on December 14.
For starters, they will be the first such polls held under President Gurbanguly Berdymukhammedov, who has made efforts to end the country's international isolation since succeeding Saparmurat Niyazov after the dictator's death in December 2006.
And in an effort to increase parliamentary representation, voters will be selecting deputies to fill 125 seats, instead of 50.
One thing that hasn't changed, however, is the country's restrictive registration and campaigning process. Nevertheless, it appears there will be little risk of strong criticism from the West, regardless of the outcome. This is due to a rise in Turkmenistan's international standing -- largely because of its energy wealth -- since the conduct of its last parliamentary elections, in 2004, were criticized in the West.
At that time, Berdymukhammedov was Turkmenistan's health minister, serving under Niyazov, better known as "Turkmenbashi" or the "Father of all Turkmen."
In August 2003, suspecting some members of parliament were somehow connected to an assassination plot against him, Niyazov oversaw the process of stripping parliament of any vestiges of power. The parliament continued to exist but lost its legislative powers to the Halk Maslahaty (People's Council).
Modest Steps Toward Reform
Following his presidential victory in February 2007, after serving in an acting capacity for nearly two months, Berdymukhammedov took modest steps toward restoring the role of parliament and other state institutions crippled by Niyazov.
Berdymukhammedov also sent a direct invitation to the OSCE to monitor the elections, a turnaround from his predecessor's habit of simply inviting "all interested parties." The OSCE requires an invitation specifically inviting their monitors.
Berdymukhammedov has instructed election officials to cooperate with outside observers.
"There shouldn't be any restrictions for international monitors to attend polling stations and to meet election officials," he said.
Although it won't be a full-scale monitoring mission, the OSCE's main election-monitoring arm, the Office of Democratic Institutions and Human Rights (ODIHR), is taking Berdymukhammedov up on his offer.
"We have sent a small team of nine election experts to Turkmenistan to support the OSCE office in Ashgabat in reporting on the elections," ODIHR Pubic Affairs Officer Jens-Hagen Eschenbacher told RFE/RL.
But Eschenbacher said the small size of the team will limit its ability to accurately observe the elections.
"They may go and visit some polling stations," he said, "but this is a very small team. This is not a full-fledged election observation mission, so they will perhaps be able to gain some impressions of how elections are going on election day. But there will be no systematic assessment of election day proceedings."
Speaking With 'Stakeholders'
While no formal report will be issued, Eschenbacher said the team will gain insight into the state of Turkmen elections by meeting with election officials and others.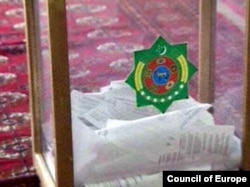 Turkmen voters know little, if anything, about the candidates before they cast their ballots.
"They will certainly try to speak with as many stakeholders in the electoral process and participants in these elections during their stay in Turkmenistan," Eschenbacher said. "Our experts will also not only stay in Ashgabat but some will also go to the regions and have meetings there."
Other outside observers will be there, as well.
A United Nations team of three monitors will also have a hard time getting an accurate view of the situation on the ground due both to its size and its short stay in the country.
And monitors sent by the Commonwealth of Independent States are generally seen, at least in the West, as being quick to counter possible negative OSCE assessments. The CIS monitors have already praised Turkmen election officials for their excellent preparations for what they have called the democratic vote.
Those comments are contradicted by evidence on the ground, however.
One example is the difficulties opposition politicians have had in registering their candidacies.
Gurbandurdy Durdykuliev, a Turkmen citizen from the western city of Balkanabad, serves as one such example. He was unable to register because election officials said he was late handing in his documents. In an
interview with RFE/RL
, Durdykuliev denies that he missed any deadline.
Passport Confiscated
Not only that, he says he won't be able to cast a ballot either, since his passport was confiscated by Turkmen authorities.
Gurbandurdy Durdykuliev says his passport was confiscated by authorities.
"On December 1, my initiative group sent a letter to the OSCE mission in Ashgabat stating that I have no passport. Therefore, I cannot vote or run for a candidacy," Durdykuliev told RFE/RL. "I was told that the OSCE received the letter, and later I had a chance to talk with one of the OSCE observers, who promised to raise the issue with the Central Election Commission."
Durdykuliev was released from a psychiatric hospital in 2006 after having been placed there in 2004 after writing to Niyazov requesting permission to hold an antigovernment demonstration.
In another Turkmen election tradition, voters have had little access to information about candidates, despite the effort at pluralism by expanding the number of seats in parliament. Nearly all candidates will come from either the Democratic Party of Turkmenistan -- in Soviet times it was the Communist Party -- the only officially registered political party in Turkmenistan, or the state-approved Galkynysh (Revival) movement.
While local media have offered some information about the election, state television has largely avoided any serious coverage of the candidates.
The entire process is being overseen by the chairman of the Central Election Commission, Myrat Karryev. He has occupied that post since 1996, while also serving as a parliamentarian since 2004.
So it appears likely that the results of the December 14 elections will be of little consequence. In Turkmenistan, the president has supreme authority, with parliament serving as a rubber-stamping body.
More interesting will be any comments from members of Western observer missions. Turkmen officials may be hoping that the West, and the European Union in particular, will be blinded by ambition to acquire Turkmen natural gas. Ashgabat may also be expecting a less critical eye owing to NATO's use of at least one Turkmen air base to support operations in neighboring Afghanistan.
In the end, while nongovernmental organizations may deem the polls a sham, the thinking is that governments in many democratic countries will be considering their comments about Turkmenistan's election very carefully.

RFE/RL Turkmen Service Director Oguljamal Yazliyeva and Guvanch Geraev of the Turkmen Service contributed to this report.