A Russian Investigative Committee has charged two suspects in the January murders of a human rights lawyer and a journalist, RFE/RL's Russian Service reports.
Vladimir Markin, a committee spokesman, said Nikita Tikhonov, 29, and Yevgenia Khasis, 24, were charged on November 5 with the double murder of Stanislav Markelov and Anastasia Baburina.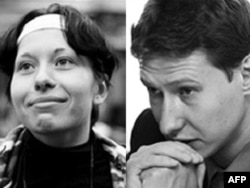 Stanislav Markelov (right) and Anastasia Baburova
Markelov -- who was a lawyer for slain journalist Anna Politkovskaya -- and Baburova, a journalist for the opposition daily "Novaya Gazeta," were shot dead by unknown assailants on January 19 in central Moscow.
Markelov also worked as a lawyer for the family of a Chechen girl who was murdered by Russian Army officer Yury Budanov in 2000.
Budanov was sentenced to 10 years in jail in 2003 but was released in 2009.
Russian media reports say Tikhonov and Khasis were members of the banned radical movement Russian National Union, but that was not
independently confirmed.
In an official statement, the International Committee to Protect Journalists (CPJ) welcomed reports of the arrests.
CPJ Europe and Central Asia Program Coordinator Nina Ognianova called on the investigative committee to "make the results of its probe public as soon as possible."