WATCH: At least two security guards were killed when gunmen raided a hydroelectric power station in Russia's North Caucasus region of Kabardino-Balkaria, detonating bombs that damaged two generators and put the plant out of action (video: Reuters).
Police in Russia say at least two people were killed when assailants attacked a hydropower station in the country's volatile North Caucasus region.
The attack occurred at a plant located on the Baksan River, in the Kabardino-Balkaria Republic.
Police said the attack may have been a "terrorist attack."
A spokesman for the republic's police, Adlan Kakakuyev, said two cars carrying a half-dozen assailants attacked the plant, killing two security guards and wounding three workers in gunfire.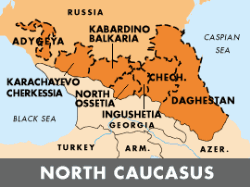 The attackers then set off explosives in several parts of the small power plant and detonated them before fleeing the scene.
It took almost three hours to contain a fire set off by the blasts.
Kabardino-Balkaria is part of the North Caucasus, where Russian authorities are battling an insurgency.
compiled from agency reports