LONDON (Reuters) -- Britain is expelling two Iranian diplomats after Iran forced two British diplomats to leave, Prime Minister Gordon Brown has said.
"Iran yesterday took the unjustified step of expelling two British diplomats over allegations which are absolutely without foundation," Brown told parliament.
"In response to that action, we informed the Iranian ambassador today that we would expel two Iranian diplomats from their embassy in London. I am disappointed that Iran has placed us in this position," he said.
President Mahmud Ahmadinejad told the United States and Britain on June 21 to stop interfering in Iran's internal affairs after the disputed June 12 presidential election, which led to days of protests in which about 17 people have been killed.
Iran Election Special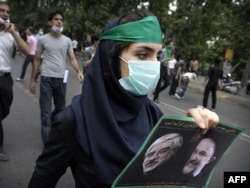 RFE/RL's Full Coverage
Following the disputed reelection of Iranian President Mahmud Ahmadinejad, supporters of Mir Hossein Musavi have taken to the streets to protest.
Click here
for news, blogs, and analysis of the presidential election and aftermath.