The UN body that reports on climate change needs to "fundamentally reform" in order to avoid the kind of errors that sparked a scandal surrounding a landmark 2007 study.
Harold Shapiro, a former president of Princeton University, led a group of scientific institutions that carried out a five-month UN-ordered independent review of the Intergovernmental Panel on Climate Change (IPCC).
"I think the errors made did dent the credibility of the [IPCC] process. There's no question about it," Shapiro said in presenting the findings on August 30 at UN headquarters in New York. "Trust is something you have to earn every year. You never build up trust -- you just have trust and you have to re-earn it all the time."
The panel said the IPCC had been "successful overall" but urged it to adopt stricter guidelines on what source material could be included in studies. It also called for closer review of potential conflicts of interest among its board members and changes in its leadership structure.

Data Skewed
The review was conducted in response to the scandal that erupted over the UN climate body's 2007 study, which helped it earn a Nobel Peace Prize for its role in educating the public about climate change. The prize was shared with former U.S. Vice President Al Gore, who produced the film "An Inconvenient Truth," which looked at the causes of and potential solutions to climate change.
When it was released, the nearly 1,000-page IPCC report offered what was considered the strongest warning to date about the threat to the planet from greenhouse gases released by the burning of coal, gas, and other fossil fuels.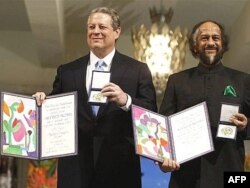 Rajendra Pachauri and Al Gore (left) shared the Nobel Peace Prize in 2007.
But ahead of the highly anticipated 2009 climate summit in Copenhagen, more than 1,000 e-mails were leaked to and from scientists at England's highly regarded Climatic Research Unit, which played a key role in drafting the report. Climate-change skeptics and fossil-fuel lobbyists say the e-mails showed that data included in the report was skewed and falsely alarming. The incident was dubbed "Climategate."
Three British inquiries have found the scientists involved not guilty of any significant wrongdoing.
But in January, the IPCC admitted that the report was wrong in its prediction that the Himalayan glaciers, which provide water to 1 billion people in Asia, could vanish by 2035.
'Little Evidence'
Other challenges have been lodged about a passage in the report that assesses the threat to Bangladesh from rising oceans and about a figure estimating how much of The Netherlands lies below sea level.
"The Working Group 2 report [which considers the impacts of climate change], for example, contains many statements that were assigned high confidence, but for which there is little evidence," Shapiro said. "In future assessments, all working groups should characterize uncertainty in a consistent manner, qualifying their level of understanding of a topic based on the amount of evidence and the level of agreement amongst experts."
Shapiro added that a number of the report's reviewers had expressed disagreement with the Himalaya prediction but that their concerns went unheeded. His team concluded that the guidelines for dealing with sources that are not peer-reviewed are "too vague."
Other recommendations included the creation of a new executive committee and the development of a conflict-of-interest policy for the body.
Core Science 'Unimpeachable'
Rajendra Pachauri, the ICCP's current chairman, has also come in for criticism, with some alleging that he has a vested interest in arguing for the human causes of climate change because he advises and sits on the board of green energy companies. An independent audit found him innocent of any financial misconduct.
Shapiro's team also recommended creating a more permanent position of IPCC chair, which should be limited to one term.
Pachauri is currently in his second six-year term and said he will leave it up to the member nations of the climate-change body to decide whether to replace him. He called reforming the IPCC "a mission that I cannot shirk" and said the probe's recommendations will be debated in October when the IPCC meets in South Korea.
But speaking to reporters, Pachauri was also clear in emphasizing what he described as the bigger picture. He conceded that the UN's climate-change body may need reform but said the core science behind climate change -- and its human cause -- is unimpeachable.
He accused climate-change skeptics of exploiting the controversy to further their own agenda and urged the public to look beyond "Climategate."
"We also have to remember that honest scientific discourse wilts under gross distortions and ideologically driven posturing," Pachauri said. "Sadly, such tactics have been a prominent feature of climate science for many years and they show no signs of letting up. My hope is that the accumulation of so many investigations into climate science in such a short period of time will strengthen public trust so we can move forward."
written by Richard Solash in Washington, with agency reports