NEW YORK -- UN Secretary-General Ban Ki-Moon has condemned an armed attack in Afghanistan that left at least five UN workers dead, but said that the organization will not be deterred.
Five foreign UN workers were killed and nine wounded in Kabul on October 28 when armed men stormed a guest house compound used by UN staff in Kabul. The dawn attack has raised questions and fresh concerns about security for a presidential election run-off due in 10 days.
Local police said the three attackers, two Afghan security personnel, and an Afghan civilian were also killed.
Speaking at UN headquarters in New York, Ban said that the UN would review its security procedures and would "take all necessary measures to protect our staff."
He said that 25 UN staffers were at the guest house when it was attacked, 17 of those were members of the UN election-assistance team.
The White House also said the attack "will not succeed."
The latest violence comes as U.S. President Barack Obama is close to deciding whether to send extra troops to Afghanistan.


'Police Uniforms'
In Kabul, a Taliban spokesman claimed responsibility for the assault on the UN workers, saying it was the "first step" to disrupt the November 7 presidential runoff. The UN is helping to organize the Afghan ballot.
The attackers reportedly wore police uniforms to secure entry into the guest house.
Interior Ministry spokesman Zamarai Beshari told RFE/RL's Radio Free Afghanistan that the area where the attack took place was considered relatively safe, and that there were not many security forces in the neighborhood.
"We have already started our investigations and other immediate details related to this case will be disclosed soon," Beshari said.
Later, the bodies of three of the suspected suicide bombers, apparently ripped apart when they detonated their explosives, could be seen lying inside the compound.

New Security Concerns
There are fears that the attack could lead to a scaling down of the UN operation in Afghanistan.
Candace Rondeaux, a senior analyst with the International Crisis Group and a former Kabul bureau chief for "The Washington Post" newspaper, said that the UN's work in Afghanistan will be deeply affected by the bombing, but she doesn't necessarily see a pullout of UN personnel.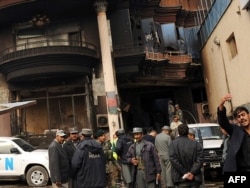 Police officers inspect the guest house in Kabul after the attack
"I do think that it will affect a great deal of their ability to get outside, into the field, I think that this will clearly restrict the security of many of those who live in Kabul," Rondeaux said.
"There's also a knock-on effect for nongovernmental organizations as a whole and also for any foreigners who are living and working either in Kabul or any of the other major cities where you can still operate as a foreigner."
She says workers will be taking more precautions, probably even more so than during the summer of 2008 when there was a wave of foreigners' kidnappings in Afghanistan.
For local Afghans who work with the UN and other major international agencies, Rondeaux said the bombing is probably just another reminder of how dangerous their work is.
But it is unlikely, she said, that many of them will give up their jobs because the salaries provided by international organizations in Afghanistan are simply unmatched for the great majority of the population.
In another sign of the growing reach of militants, rockets also were fired at a foreign-owned luxury hotel near the presidential palace in Kabul on October 28, forcing more than 100 guests into an underground bunker.
The Kabul attacks come a day after eight U.S. troops were killed in southern Afghanistan in the deadliest month for U.S. forces since the start of the war eight years ago.

RFE/RL's Radio Free Afghanistan contributed to this report