Turkey has called on Israel to accept an international probe into last week's raid on a Gaza-bound aid flotilla that left nine pro-Palestinian activists dead.
Foreign Minister Ahmet Davutoglu said if Israel rejects such an investigation "it means that they have something to hide" -- and that normalization of relations between their two countries would be "out of the question."
The activists, most of them Turks, died when Israeli commandos intercepted the flotilla's May 31 attempt to break Israel's naval blockade of Gaza.
UN Secretary-General Ban Ki-moon has suggested creating a multinational panel under a neutral chairman. But Israel on June 6 said it is rejecting any international commission. Israel's ambassador to the United States, Michael Oren, said that as a democratic nation Israel has the right to investigate its own affairs.
But Oren hinted at some flexibility in the composition of an internal body when he said that Israel is discussing with Washington the form its inquiry would take.
'Prompt And Impartial'
Most countries are insisting that the only way to make an investigation credible is to have at least some international presence.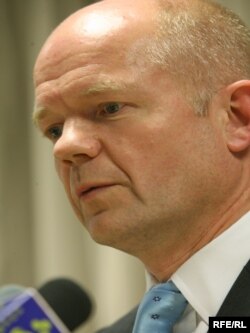 British Foreign Secretary William Hague
"We think it is very important that there is a prompt and impartial and credible and transparent investigation into the events of last Monday with the Gaza flotilla," British Foreign Secretary William Hague said in Paris on June 6. "And we believe there should be an international presence at minimum in that inquiry or investigation."
At the same press conference, French Foreign Minister Bernard Kouchner also pressed for what he called broad participation.
"It is in the interest of our Israeli friends to have a broad and therefore international investigation. It's up to them to respond," Kouchner said. "But I think that quite a precise proposal has already been made by the Americans, the French, and in fact the United Nations, and our British friends go in the same direction."
The Middle East Quartet, consisting of Russia, the United States, the European Union, and UN, is expected to meet today to discuss how to investigate the raid.
Sequence Of Events
Whatever form it has, a panel of inquiry would investigate the sequence of events leading to the shooting of nine activists by Israeli commandos. Convoy organizers claim the commandos were already shooting as they boarded the lead ship. Israel says the soldiers fired in self-defense after they were set upon by men armed with iron bars.
Kouchner also hinted at an easing of the sea blockade on Gaza, proposing that the European Union could step in and check the cargo on ships bound for the Gaza Strip to ensure that it consists of only humanitarian supplies. The EU could also control the Rafah land crossing point from Egypt into the territory.
The EU has previously called for an end to the sea and land blockades on Gaza, describing them as unacceptable. But Israel insists the barriers are there to ensure that no weapons arrive in Gaza for Hamas militants.
Hamas is backed by Iran, which is threatening to interfere militarily to break the sea blockade. The semi-official Mehr news agency reports that the Iranian elite Revolutionary Guards are
offering a military escort
to cargo ships trying to reach Gaza.
Ali Shirazi, a representative of Supreme Leader Ayatollah Ali Khamenei for the Revolutionary Guards, reportedly said the Guards naval forces will do everything in their power to escort an aid flotilla to Gaza.
It's not clear whether the Guards will attempt to accompany a two-ship volunteer aid convoy which the Iranian Red Crescent says it will send to Gaza later this week.
compiled from agency reports