Kyrgyzstan's interim government has extended a state of emergency in the southern city of Osh and nearby areas until at least June 25.
The state of emergency, imposed on June 11 amid deadly clashes between ethnic Kyrgyz and Uzbeks, had been due to expire on June 20.
The United Nations, meanwhile, is asking governments around the world to help alleviate the humanitarian crisis in Kyrgyzstan.
Local authorities say as many as 2,000 people may have been killed in several days of ethnic violence last week.
UN Secretary-General Ban Ki-moon has called for pledges of $71 million to help alleviate the humanitarian crisis in the country's south, where ethnic clashes last week are believed to have killed some 2,000 people and wounded thousands more.
Ban said the violence in the country's south had displaced as many as 400,000 people.
"An estimated 300,000 people have been displaced in Kyrgyzstan and up to 100,000 have fled to Uzbekistan, where some 80,000 are located in camps. Tens of thousands more are reportedly waiting to cross the border," Ban said.
Ethnic Uzbeks sheltering in tent camps along the Kyrgyz-Uzbek border are in dire need of food and clean water. Some have returned to their homes in southern Kyrgyzstan, but most are terrified of going back.
UN emergency relief coordinator John Holmes, who is in Kyrgyzstan to assess the humanitarian situation, said he was shocked by the extent of the violence and "appalled by the deaths and injuries, widespread arson, sexual violence, looting."
The interim government has struggled to assert its authority in Kyrgyzstan since taking power after bloody protests toppled President Kurmanbek Bakiev in April.
Osh, Kyrgyzstan's second-largest city and the epicenter of the violence, resembles a ghost city.
Although the shooting has ended, most residents, particularly ethnic Uzbek, are still too scared to leave their shelters.
Scarce Food Supplies
RFE/RL correspondent Bruce Pannier, who is in Osh, said "a lot of people are still hiding in their houses, and it's hard to get them to come out and even talk to you. Various neighborhoods in the city are absolutely burned and destroyed. Certainly the Uzbek population is very very worried, because all the Kyrgyz army I see, the soldiers there, are all Kyrgyz. The Uzbeks don't think they'll get any help from the police or the army."
Food is running low. Shortages are particularly acute among ethnic Uzbeks, who are afraid to go to the few Kyrgyz-owned markets still open.
Medical supplies are also scarce, and few of those wounded in last week's violence have been able to receive treatment.
(LISTEN: Bruce Pannier discusses early attempts at reconciliation in Osh.)
"In some Uzbek neighborhoods, there are Kyrgyz doctors who have gone there voluntarily to try and help out, do something for the people. But generally, if you're wounded, chances that you'll get medical attention are pretty slim," Pannier said.
"The Red Cross is here and I know that various humanitarian organizations are sending their people, but the Uzbeks are really reluctant to come out of hiding at the moment, even to seek medical attention."
In the city's Uzbek neighborhoods, many fear new violence after interim leader Roza Otunbaeva pledged to remove the makeshift roadblocks put up by residents.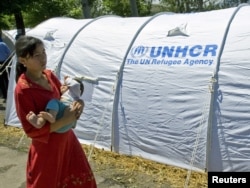 An ethnic Uzbek woman who fled from southern Kyrgyzstan walks with her child at a refugee camp in the village of Yorkishlak on the Kyrgyz-Uzbek border.
The mayor of Osh, Melisbek Myrzakmatov, speaking at a press conference on June 19, threatened to send soldiers if all barricades are not removed by the night of June 20.
U.S. Assistant Secretary of State Robert Blake, who is currently in Kyrgyzstan, urged Kyrgyzstan on June 19 to create conditions for a safe return of the hundreds of thousands of refugees.
Speaking at a news conference in Bishkek following talks with Otunbaeva, Blake also said Kyrgyz leaders have promised to investigate the violence. Blake called for such an investigation to be complemented by a probe by a credible international body.
Blake also reiterated that Washington will provide more than $32 million in humanitarian aid to the country to help those displaced in the violence and to normalize the situation in the country's south.
The meeting comes as U.S. Secretary of State Hillary Clinton has said Kurmanbek Bakiev, Kyrgyzstan's president who was toppled in a revolt in April, may be to blame for instigating the violence.
In remarks posted on the State Department website, Clinton said, "Certainly, the ouster of President Bakiev some months ago left behind those who were still his loyalists and very much against the provisional government."
Uzbek President Islam Karimov spoke to Clinton by telephone on June 18 and also accused "outside" elements in the unrest.
Many eyewitnesses and victims say the violence was orchestrated and some accuse soldiers from the Kyrgyz military of taking part in the violence.
Bakiev, now in exile in Belarus, has strongly denied any involvement in the events.
written by Claire Bigg based on RFE/RL Kyrgyz Service and agency reports; reporting from Osh by Bruce Pannier