MOSCOW -- Muscovites were shivering under overcast skies and steady rain as U.S. President Barack Obama touched down in Moscow for his first visit as president.
The weather reflected general skepticism that the two-day summit would do much to achieve Washington's goal of turning around stalled relations between the two former Cold War rivals.
The United States and Russia are expected to announce a preliminary deal to slash their nuclear weapons arsenals during Obama's first summit with Russian counterpart Dmitry Medvedev.
But negotiations on that and other issues could be rocky as Obama seeks to revive ties from their recent lows.
Kremlin Meeting
At the start of their meeting at the Kremlin, Medvedev said he hoped they would be "closing a few difficult pages in the history of Russian-U.S. relations and opening a new page."
He also acknowledged "various problems, which we are tackling together now, including economic and security problems, as well as the issue of strategic arms reduction."
"I think we have a good chance of making important, necessary decisions on this entire agenda," Medvedev added.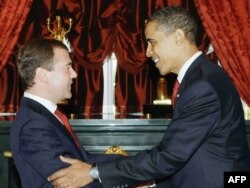 Medvedev (left) and Obama meet at the Kremlin on July 6.
Obama repeated his view that "the United States and Russia have more in common than they have differences."
"If we work hard during these next few days, we can make extraordinary progress that will benefit the people of both countries," he said.
Nuclear Groundwork
Hours before Obama's arrival, U.S. and Russian officials said both sides had agreed on the text of a framework nuclear-arms deal they hope to finalize by the end of the year.
Washington put the agreement on the top of its agenda with Moscow to open the way for dialogue on other, more contentious issues. The new pact would replace the 1991 START treaty that expires in December, and would cut arsenals to below the current 1,700 to 2,200 warheads allowed under the current deal.
The Kremlin is also expected to allow the United States to ship weapons and other lethal supplies over Russian territory to NATO forces in Afghanistan.
The two sides will discuss a number of other issues, including Iran's nuclear weapons program and Russia's drive to join the World Trade Organization (WTO).
Testy Atmosphere
But many believe Obama faces a nearly impossible task in relaunching U.S.-Russian relations. Long-festering hostilities plummeted to Cold War levels last summer, when Russia invaded the former Soviet republic and current U.S. ally Georgia.
Moscow continues to violate the terms of a French-brokered cease-fire ending the five-day conflict, maintaining thousands of troops in Georgia's two pro-Moscow breakaway regions. Russia today ended major military exercises north of Georgia's border.
RFE/RL Georgian Service Director David Kakabadze talks about what Georgians hope to see -- or not see -- at the summit.
Obama's advisers indicated the president would pursue a hard line in Moscow defining American national interests. Speaking to the Associated Press ahead of his visit, the president initiated a prickly exchange with Prime Minister Vladimir Putin, the man many believe rules Russia behind the scenes. Putin, Obama said, still had "one foot" planted in the Cold War.
Putin later shot back, saying Russians "are standing firmly on both feet and always look to the future."
'Moderate' Expectations
Obama is due to meet Putin for breakfast on July 7 before speaking to former Soviet leader Mikhail Gorbachev, opposition leaders, and human rights activists taking part in a conference on civil society.
Speaking in an interview published on July 4 in the fiercely Kremlin-critical "Novaya gazeta" newspaper, Obama said he is seeking to reset relations with Moscow because "Americans and Russians have many common interests, interests that our governments recently have not pursued as actively as we could have."
Medvedev has also called for better ties and said he's "moderately optimistic" about Obama's trip.
But the Russian press has downplayed the visit and Russian commentators are pessimistic over the prospects both sides will begin overcoming their yawning differences.
Russia is deeply upset over NATO's promise to eventually give membership to Georgia and Ukraine. Moscow is also furious over American plans for a missile-defense system in Europe.
Give And Take
In an interview on July 5, Medvedev said Russia would sign a final nuclear arms deal with Washington only if the United States drops its unilateral plans to go ahead with the missile shield. But in his interview in "Novaya gazeta," Obama said he rejects any effort to tie U.S. missile defense to arms-control talks with Russia.
Obama is due to deliver an address on U.S.-Russia relations on the second day of his visit. The White House is billing the talk as the third in a series of four major speeches laying out Washington's overarching foreign policy strategy.
It's unclear how it will be received in Moscow, or even whether the Russian authorities will broadcast the speech on national television.
Also unclear is how hard police may crack down on opposition groups trying to take advantage of Obama's visit by planning protests in central Moscow as the summit gets under way.
RFE/RL Russian Service correspondent Irina Lagunina on Russians' summit expectations.
It is uncertain how much excitement the presidential summit is stirring in more distant corners of Russia.
In Ulan-Ude in eastern Siberia, city residents speaking to RFE/RL's Russian Service expressed a mix of opinions when asked whether responsibility falls to the United States or Russia to improve bilateral ties.
"I think this depends mainly on our country," one woman said. "I don't think our foreign policy has changed. It's a policy of double standards. I think we've got to have a broader outlook on the world around us."
One resident accused the United States of wanting "to retain the status of a superpower and keep its missile potential, its missile defense, and so on."
"And they don't want to make any concessions to us and to sign a new nuclear arms reduction treaty," he added.
Another Ulan-Ude man said that "Americans are arrogant and they want to seize as many countries as possible and to impose their will on them, even if those countries don't want that."
"So," he said, "[Americans] should make some concessions."
with contributions from RFE/RL's Russian Service