(RFE/RL) -- U.S. Attorney General Eric Holder has used a visit to Berlin to make a frank appeal for help from European allies to resettle inmates released from the Guantanamo Bay detention center.
Holder said solving the problem of what to do with the Guantanamo prisoners will require Europe to display solidarity with the United States. He added that the problem was created by the United States alone, but the solution would have to come from united action.
He described the previous U.S. administration's policy of detaining hundreds of terror suspects for years without trial at Guantanamo as showing a disregard for the United States' "centuries-long respect for the rule of law." It had alienated allies, incensed enemies, and ultimately weakened the fight against terrorism.
He expressed hope that Europeans will see the wisdom of cooperation for the common good in closing the detention facility.
Holder said that on his present European tour he had sounded out European officials about taking Guantanamo detainees, but had not yet sought specific commitments. He said he was laying the groundwork for formal requests, which would come in a matter of weeks, rather than months.
He said the administration of President Barack Obama has identified about 30 individuals it considers suitable for release in Europe.
The prospective host country would be given the fullest possible details about the individuals, none of whom are considered dangerous.
Europeans Cautious
Ivan Langer, the interior minister of the Czech Republic -- which currently hold the EU Presidency -- said in Prague on April 28 that he expects some European states will accept Guantanamo detainees.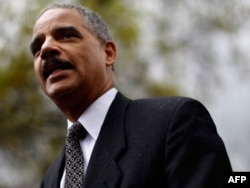 Holder said that while the U.S. created the problem, it would need European help to solve it.
Speaking after a meeting with Holder and European justice officials, Langer, however, ruled out the Czech Republic taking any.
So far, the European allies have been cautious about the notion that they should accept Guantanamo prisoners. They want to avoid importing onto their soil people who might prove to harbor terrorist tendencies, or feelings of revenge for their years of detention.
France has made a purely symbolic gesture by offering to take one releasee. Britain is amenable to taking a few. Portugal and Lithuania have expressed interest in the plan.
Even if all 30 men are eventually taken in, that leaves about 210 inmates still detained at Guantanamo. Their fate is unclear. U.S. authorities have not given any details of the gravity of the suspicions against them, or of their present psychological condition.
President Obama has ordered the complete closure of the Guantanamo detention center in the next nine months.
with news agency material