The figures were slightly better than expected -- but still shocking nonetheless.
The U.S. economy shrank at an annual rate of 3.8 percent in the period October to December.
The data from the U.S. Commerce Department comprises the government's first picture of the economy in the last quarter of 2008.
That was the period that immediately followed the collapse of investment bank Lehman Brothers, a key moment in the financial crisis that sent shock waves around the world.
"We're seeing across-the-board capitulation here. The only sectors of the economy that are continuing to grow are education and health care," says professor Peter Morici of the University of Maryland.
"This is the worst recession since World War II, and the real question remains if it's a recession or a depression -- not a Great Depression, we're not talking about 1929 -- but the hallmark of the three depressions we have had is that they're long, extended contractions [where] the economy doesn't have the capacity to recover under its own energy," Morici says.
The evidence of recession is all around. Homebuilders are reeling from the collapse of the housing market. Companies hit hard by the credit crisis are cutting production and shedding jobs.
Deadly Cocktail
More than 2 million jobs were lost last year and this week alone has seen major companies like Ford and Caterpillar announce tens of thousands more layoffs.
Housing foreclosures, job cuts, no easy access to credit -- it's been a deadly cocktail for consumer spending, the largest part of the U.S. economy.
"The demand just isn't there, and there's incredible fear," said Honeywell CEO David Cote, as he and other business chiefs met U.S. President Barack Obama on January 28.
"Everybody's just so concerned about what's going to happen next that things are just locking up, and we need to do something to break that lockup. You see companies doing all the things that they would do when they start to see demand fall, sales fall -- hiring stops, layoffs begin, and expenses get cut everywhere -- a bad dynamic for all of us, and all stemming from that lower demand," Cote said.
Economists expect the first quarter of this year will see a similar contraction. And growth, when it returns -- perhaps later this year, perhaps next -- is likely to be weak.
Kick-Start Growth
With the economy a top domestic priority, Obama is seeking passage of an $800 billion stimulus package currently making its way through Congress.
It's designed to kick-start growth and create some 3 million jobs through its mix of extra spending and tax cuts.
But opinion is divided, with critics saying too much of the spending is on pet items like education and not enough on the kind of infrastructure projects that create jobs.
The U.S. economy, of course, is not the only one feeling pain.
The lastest figures show factory output in Japan plummeting 9.6 percent in December.
That puts the world's second-largest economy on course for its worst recession since World War II.
World Economic Crisis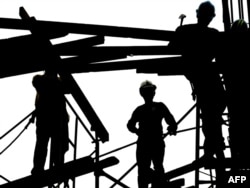 Multimedia coverage on the impact of the global financial crisis on markets and individuals across RFE/RL's broadcast region. More