Oil has been spilling into the Gulf of Mexico and washing up on the U.S. coast for more than a month. Now, Washington says it is losing patience with the oil company responsible.
U.S. Interior Secretary Ken Salazar said on May 24 that the federal government could push BP aside and take direct control of operations if the oil company does not do enough to stop the leak.
The warning comes as heavy oil continues to wash into fragile marshlands and wildlife refuges on the southern shore of Louisiana, threatening the livelihoods of Gulf Coast residents.
"I am angry and I am frustrated that BP has been unable to stop this well from leaking and to stop this pollution from spreading," Salazar told journalists on May 23. "We are 33 days into this effort and deadline after deadline has been missed."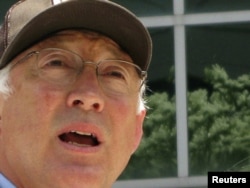 Interior Secretary Ken Salazar
Not just BP's failure to stop the spill but even some of the methods it has used to clean it up have come under severe government criticism.
One is the company's use of harsh chemical dispersents, which conservationists fear could be worsening the massive environmental damage from the spill.
The head of the U.S. Environmental Protection Agency (EPA) said on May 24 she is instructing BP to decrease its use of chemical dispersants by as much as 50 percent. Lisa Jackson also said she is ordering EPA scientists to immediately seek out alternative chemicals.
'What Is At Threat Here'
The massive oil spill stems from an explosion on a BP-leased oil rig in the Gulf of Mexico on April 20, which killed 11 workers. Since then, millions of gallons of oil have leaked into the Gulf despite efforts by BP to staunch the flow. Multiple congressional hearings have been held and the environmental catastrophe has become one of the major tests of Barack Obama's presidency.
The Republican governor of Louisiana, Bobby Jindal, has repeatedly faulted both BP and the federal government for moving too slowly and disjointedly in response to the crisis.
Jindal said on May 24 that "just under [112 kilometers] of our coast have been hit by oil." He added, "Let's make no mistake that what is at threat here is our way of life."
BP – one of the world's largest oil companies – says it is doing all it can to stop the leak. But the company, which has much experience plugging leaks from oil wells on land, says stopping the current leak deep under the seabed is a hugely difficult technical challenge.
The company has sought to contain the spill by placing an artificial dome over the spill site. Now, it is hoping to plug the leak by injecting heavy mud and cement down into the well.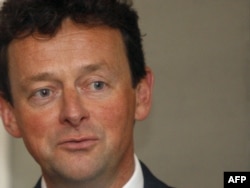 BP Chief Executive Tony Hayward
But BP Chief Executive Officer Tony Hayward told journalists on May 24 that success for a "top kill" is far from guaranteed.
"[A 'top kill'] has never been done in [1,500 meters] of water," he said. "If it was on land, we would have a very high confidence of success, but because it's in [1,500 meters] of water, we need to be realistic about the issues around operating in a [1.5 kilometers] of water. We rate the probability of success of somewhere between 60 and 70 percent."
Push BP Aside
Doubts about success, of course, only increase the mounting public fear that no one seems able to stop the oil spill. But if Washington now is warning it could push BP aside and take over itself, experts say that might be wishful thinking.
The head of the U.S. Coast Guard, Thad Allen, pointed out on May 24 that only oil companies have what's needed to deal with oil spills. He told a White House briefing that to "push BP out of the way would raise the question, 'Replace them with what?' "
Allen said neither the Coast Guard nor any other government agency has the equipment to plug oil leaks deep below the sea bed. But he added the government does have the authority to direct the oil company's efforts – suggesting that the government might do more of that if BP does not make faster progress.
The Gulf Coast spill is rapidly nearing the size of the United States' greatest oil spill disaster to date, the 1989 Exxon Valdez oil spill in Alaska. In that spill, an oil tanker hit a reef and spilled an estimated 41 million liters of oil.
The U.S. Congress passed legislation after that disaster making oil companies responsible for dealing with major accidents, but only up to $75 million in liability. The Senate is considering a bill that would raise that cap to $10 billion.
written by Charles Recknagel, with agency reports