NEW YORK -- Hundreds of human rights activists, intellectuals, civil society leaders, opposition political activists, students, and journalists have been arbitrarily detained in Iran since the disputed June 12 presidential election. An unknown but substantial number have also been killed and injured.
Many fear that more violent confrontations, and more human rights violations, may lie ahead. A group of prominent human rights activists in New York has urged the international community, and specifically the United Nations, to try and persuade Tehran to stop the crackdown.
At a press conference on June 30, Elise Auerbach of Amnesty International-USA expressed deep concern over the calls from some senior clerics in Iran to charge some protesters with offenses that could lead to death penalty under the Islamic legal code.
"Amnesty International is very concerned about the possibility that many of these detainees could be severely tortured, and especially tortured to compel them to make confessions, confessions that will be televised on national Iranian TV," Auerbach said.
According to the New York-based International Campaign for Human Rights in Iran, hundreds of students, professors, journalists, and reformists have been arrested. Only 29 are known to have been released.
State television has broadcast what it says are confessions by some of the detained protesters, who said they acted on behalf of Britain and other Western states in a bid to destabilize the government.
Sarah Whitson, of Human Rights Watch, said governments and institutions who are concerned about the gross human rights violations taking place in Iran have several avenues through which to express their concerns and use their influence to get Tehran to cease its campaign of intimidation and violence.
"There should continue to be a review of Iran's record at the United Nations. Diplomats from capitals east and west who still have relations -- and should have relations with Iran -- should raise protests both privately and publicly about the conduct of Iran's government," Whitson said.
"They should also, I think, very clearly refuse to accept that raising these points of international law -- raising the points of Iran's failure to respect its legal obligations -- are not internal matters that are nobody else's business," she added. "They are everyone's business and they are this responsibility of the foreign governments to raise points about."
'Securitization' Of Iran
Also appearing at the press conference was Roxana Saberi, the Iranian-American journalist who was imprisoned by Iranian authorities on trumped-up espionage charges,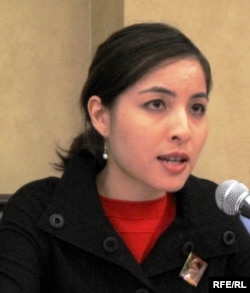 Roxana Saberi
Talking about her ordeal in the notorious Evin prison, where she was kept between February and May, Saberi said that her brief stay at the prison gave her an opportunity to experience firsthand what it's like to be a political prisoner in Iran. Because of her high international profile, she said she was spared the physical abuse that most prisoners at Evin experience.
Saberi said that "fortunately I did not face physical torture but I know that happens there and probably many of the detainees today who have been arrested in the context of these elections, are under physical torture. And I think the situation of those detainees who have been recently detained is probably much more difficult than what I was going through."
Before her imprisonment, as a reporter living in Iran, Saberi said she witnessed the growing influence of the security apparatus in the daily lives of people, calling it the "securitization" of life in Iran. People are afraid to speak their minds, she said.
"Especially under [President Mahmud] Ahmadinejad's government, hard-liners took this security approach toward Iranian society where they looked at many individuals or groups as security threats that have to be dealt of through security means, such as intimidation or force, or putting people in jail, or putting them on trial," Saberi said.
"And this really has an effect on Iranian society because people start to be afraid to take part in certain activities, such as taking part in NGOs or calling for more rights, or taking part in university groups or even having conversations with foreigners are thought to be, according to some hard-liners, a cover for intelligence activities against the Islamic republic," she added.
Human rights activists note that while the detentions of people like Saberi draw international attention and protest, the majority of detained individuals in Iran lack the international political standing to convince the authorities to reexamine their cases.
Iran Election Special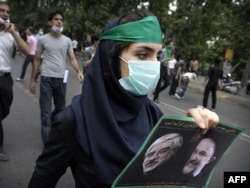 RFE/RL's Full Coverage
Following the disputed reelection of Iranian President Mahmud Ahmadinejad, supporters of Mir Hossein Musavi have taken to the streets to protest.
Click here
for news, blogs, and analysis of the presidential election and aftermath.
Iran Election Diary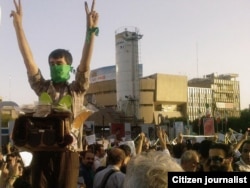 Disputed Presidential Vote
There have been protests and clashes with police on the streets of Tehran following the disputed reelection of Mahmud Ahmadinejad. RFE/RL collects videos, photos, and messages on social-networking sites coming out of Iran to attempt to get a picture of what is happening inside the country.
Click here