BISHKEK/JALAL-ABAD (RFE/RL) -- Visiting U.S. Assistant Secretary of State Robert Blake has said Washington is prepared to help Kyrgyzstan's interim government formed in the aftermath of bloody antigovernment protests last week.
Blake, along with the head of the self-styled government, Roza Otunbaeva, spoke to reporters today after the two held a meeting in Bishkek.
He said that he had been sent to Kyrgyzstan by Secretary of State Hillary Clinton to "express support for the steps that the provisional government thus far has undertaken to restore democracy and to establish a timetable to organize a new constitution and new elections in Kyrgyzstan."
Blake is the most high-profile U.S. official to visit Kyrgyzstan since the protests began on April 7.
Kyrgyzstan hosts a U.S. military base at Manas airport outside Bishkek that plays a key part in the U.S.-led operations in Afghanistan.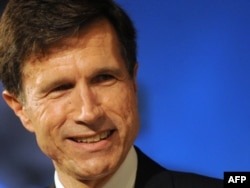 Robert Blake said that he had been sent to Kyrgyzstan to ''express support for the steps that the provisional government thus far.''
Otunbaeva said the future of the base was not discussed during her talks with Blake. The existing contract for the base outside Bishkek expires later this year.
U.S. Embassy spokeswoman Kimberly McDonald told RFE/RL in Bishkek today the transit center has resumed its normal operations once again, after temporarily suspending flights from Manas due to the political upheaval in the country.
McDonald added that the provisional government has "full authority to look at the contracts and the decisions" on the U.S. lease of the air base and "to make those decisions in the future. But for now things will be continuing as normal."
As Otunbaeva met the visiting U.S. diplomat in Bishkek, her deputy Almazbek Atambaev was in Moscow to seek humanitarian assistance.
Atambaev called Russia his country's "strategic partner." He received a promise to help fill what Prime Minister Vladimir Putin called Kyrgyzstan's "empty coffers."
"I think we can offer humanitarian aid to Kyrgyzstan in the form of a $20 million grant for immediate payments, for the purposes of social support," Russian Finance Minister Aleksei Kudrin said.
Kudrin added that Rosselkhozbank, the Russian Agricultural Bank, was "ready to offer a $30 million loan at a reduced interest rate to the corresponding financial institution in Kyrgyzstan."

Confrontations In Jalal-Abad
Meanwhile, the situation remains volatile in the southern province of Jalal-Abad, where Bakiev, a native of the region, fled after riots in the capital.
RFE/RL correspondent Bruce Pannier, who is in Jalal-Abad, said several hundred people tried to organize a "kurultai," or people's congress, to support the self-styled government in Bishkek.
However, they were soon dispersed by a group of Bakiev supporters, who Pannier said "grabbed the kurultai's microphone" and forced its participants to leave the central square.
He said that some 1,500 to 2,000 people staged a rally in downtown Jalal-Abad today to support Bakiev and condemn the president's opponents.
Pannier said that the pro-Bakiev crowd "has changed. Yesterday, it was, probably, about half and half men and women; today it's, probably, 80-90 percent men, most of them young, most of them have a very serious or angry look on their [faces]."
He also reported increasing rumors of ethnic unrest among Kyrgyzstan's Uzbek minority. Pannier reported seeing a "long, long column of Uzbeks marching" in Jalal-Abad, which he estimated at 2,000, and that a separate rally was being held at the local university.
Kurmanbek Bakiev greets supporters at a rally in the center of Jalal-Abad on April 13.
"There are also rumors flying around town everywhere that Uzbeks are beating up Kyrgyz in different parts of the country, and rumors that Kyrgyz are beating up Uzbeks in different parts of the country, here in the south anyway," Pannier said. "That is kind of information people are getting down here at the moment."
It is expected that supporters of the interim government will try to organize their kurultai in Jalal-Abad later today.
Bakiev Standoff
As concerns about possible tensions in the province rise, Otunbaeva said her government had "enough forces in the south."
"We have control of the south," Otunbaeva said today. "We have everything that is necessary there."
Bakiev said on April 13 he was willing to resign if the interim government guaranteed safety for him and his family.
Bakiev's other conditions for resignation included starting preparation of a "snap presidential election to be held within two or three months."
The Associated Press has quoted Otunbaeva as saying her team was offering security guarantees to Bakiev and his family if he stepped down and left the country.
However, Otunbaeva said today Bakiev must stand trial, though she did not rule out the possibility of talks with Bakiev, who has said he is ready to negotiate
"Bakiev understands his current situation, so he says he wants to meet with leaders of the opposition, or rather the interim government now," she said. "We'll see. We need to work out the format of such a meeting."
written by Farangis Najibullah, with contributions from RFE/RL correspondents Bruce Pannier and James Kirchick. With agency reports