WASHINGTON -- The U.S. Republican Party has won control of the House of Representatives in a national election that saw angry voters turning against President Barack Obama's Democratic Party.

The Republican Party picked up the 40 seats they needed in the 435-seat House of Representatives to secure the majority, plus 20 more.

In the 100-member Senate, the Democratic Party held onto a narrow majority 51-46, despite the loss of six seats.

The United States' newest political movement, the antiestablishment Tea Party, emerged as a serious political force as its members won three Senate seats and more than a dozen House seats.

The results are a massive change from just two years ago when Obama and his Democratic Party were swept into power on a wave of voter optimism. Two years of Democratic control of the White House, Senate, and House of Representatives has not brought the change many Americans voted for and in this election, the economic recession and near double-digit unemployment turned people away from the man and the political party they pinned their hopes on in 2008.

A Change Of Course

The man set to become the new powerful speaker of the House, John Boehner (Republican, Ohio), told supporters that the "real winners" on election day were the American people.

In an emotional speech that saw him choking back tears, Boehner called the election results "a repudiation of politicians who refuse to listen to the people." He said Republicans and members of their allied Tea Party movement would lead "the drive to a smaller, less costly, and more accountable government."

And he put Obama on notice that things are about to change in Washington. "While our new majority will serve as your voice in the people's house, we must remember, it's the president who sets the agenda for our government," Boehner told supporters at a downtown Washington hotel. "The American people have sent an unmistakable message to him tonight, and that message is, 'change course.'"

He continued: "We hope President Obama will now respect the will of the people, change course, and to commit to making changes that they are demanding. And to the extent that he's willing to do that, we're ready to work with him."

Around 1 a.m. Washington time, the White House released an official photo of Obama on the phone to Boehner. A statement said he had told the speaker-in-waiting that he was "looking forward to working with him and the Republicans to find common ground, move the country forward, and get things done for the American people."

Obama suffered a somewhat personal defeat himself earlier in the night when his old U.S. Senate seat in his home state of Illinois fell to a Republican.

Democrats hung on throughout the night as their losses piled up, urging supporters to vote in states where polls were still open.

"We have taken the country in a new direction," said House Speaker Nancy Pelosi (Democrat, California), addressing supporters who had gathered to watch the returns at a hotel in downtown Washington. "Under the leadership of our great president, Barack Obama, we have taken the country in a new direction. We are not going back to the failed policies of the past. We are fighting for the middle class. Thank you for being part of that fight."

But even as she spoke, victory speeches were being prepared by candidates who had beaten their Democratic opponents.

Tea Party 'Tidal Wave'

In states where Republicans won, they tended to win big. The party picked up five Democratic-held Congressional seats in Pennsylvania, and three each in Ohio, Florida, and Virginia.

In at least three states, U.S. Senate candidates aligned with the Tea Party movement beat their Democratic opponents.

In the southern state of Kentucky, Rand Paul's victory was an early indication that frustration over the economic recession meant voters had decided to vote for anti-establishment candidates. The Tea Party movement embraces a small but vocal minority of U.S. voters who are angry with both established political parties in Washington, and Paul drove that message home with his speech.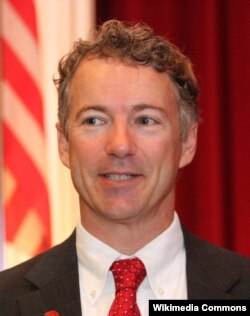 Tea Party favorite Rand Paul won his Kentucky Senate contest.
"I have a message! A message from the people of Kentucky! A message that is loud and clear and does not mince words: We've come to take our government back!" he said. "The American people are unhappy with what's going on in Washington. Eleven percent of the people approve of what's going on in Congress. But tonight, there's a Tea Party tidal wave and we're sending a message to them!"
Another big Tea Party win came in Florida, where Marco Rubio, a son of Cuban exiles, also won a seat in the Senate. Rubio claimed victory by vowing to take on both the Republican and Democratic parties in Congress.
"Our nation is headed in the wrong direction and both parties are to blame," Rubio said. "And what Americans are looking for desperately is people that will go to Washington, D.C. and stand up to this agenda that is taking us in the wrong direction and offer a clear and genuine alternative."
The Tea Party candidate in Utah, Mike Lee, is also headed for the Senate.
But another well-known Tea Party candidate went down in defeat. In Delaware, Senate candidate Christine O'Donnell lost to her Democratic opponent. The politically inexperienced O'Donnell gained fame for first saying that she had dabbled in witchcraft and then for producing a television ad in which she declared, "I'm not a witch."
In one of the most closely watched contests, Senate Majority Leader Harry Reid held off a serious challenge by his Republican opponent in the western state of Nevada.

Democrats Looking Ahead

The man at the center of the election -- but who is not up for reelection himself -- spent much of his day giving radio interviews from the Oval Office. Throughout the day, Obama's White House also tweeted get-out-the-vote messages.
Terry Madonna, the director of the Center for Politics and Public Affairs at Franklin & Marshall College in Pennsylvania and the director of the oldest political opinion poll in the state, says the election results will dramatically alter the next two years of Obama's presidency.
"It's, of course, going to mean that President Obama's agenda, as he would certainly like to see it in years three and four of his first term, will be incredibly modified," said Madonna. "From comprehensive immigration reform to the energy bill, to whatever recession fighting measures the president would now like to turn to, [those] will largely be in the hands of a much more conservative, Republican-controlled House."
Madonna adds that in Europe and elsewhere in the world where Obama is well liked, the U.S. president's political losses will be somewhat puzzling.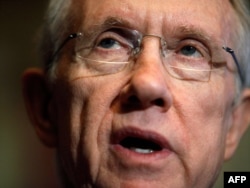 Democrat Harry Reid retained his Nevada Senate seat after a scare.
"For many voters overseas, President Obama's far more popular there than in America. There will be some confusion as to why the president would suffer this sort of defeat," he says. "On the other hand, it seems to me they only have to look to their own governments in Europe, as they attempt to [regroup] and to pull back on some of the benefits that have been extended to workers in various countries and the turmoil that's been created in those countries as a result."
He adds that "any discussion of Obama being a one-term president is extraordinarily premature" and points out that both former Presidents Ronald Reagan and Bill Clinton "suffered stunning losses in midterm elections but were overwhelmingly reelected two years later."
But in the end, Madonna says, history won't matter as much as the economy. Only if things turn around for unemployed Americans, he says, will voters consider giving Obama another term.