U.S. Senator Believes Missing American Being Held In Secret Iranian Prison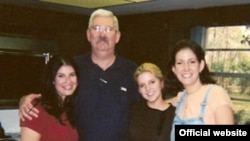 During yesterday's confirmation hearing for Hillary Clinton in Washington, U.S. Senator Bill Nelson of Florida said he believes a former FBI agent who went missing in Iran in 2007 is being held in a secret prison there.
Clinton, who is President-elect Barack Obama's choice for secretary of state, said Tehran could improve relations with the United States by offering information on
Robert Levinson
.
Levinson was last seen on March 8, 2007, during a trip to Kish Island, off the southern coast of Iran. According to his family, he had gone to Iran to seek information on cigarette smuggling.
The United States has called on Iran to cooperate on the Levinson case.
Iranian authorities have said they have no information on his fate.
Christine Levinson, his wife, said in a statement e-mailed to RFE/RL on January 13 that she appreciates Nelson and Clinton discussing her husband's case. She said she hopes the Iranian government will show the "compassion and respect it says it has for all people" and help bring Levinson back to his family.
(by RFE/RL correspondent Golnaz Esfandiari)
About This Blog
"Watchdog" is a blog with a singular mission -- to monitor the latest developments concerning human rights, civil society, and press freedom. We'll pay particular attention to reports concerning countries in RFE/RL's broadcast region.
Journalists In Trouble
RFE/RL journalists take risks, face threats, and make sacrifices every day in an effort to gather the news. Our "Journalists In Trouble" page recognizes their courage and conviction, and documents the high price that many have paid simply for doing their jobs. More