WASHINGTON -- The Pakistani-American man charged with terrorism for allegedly driving a car bomb into Times Square has waived his right to a speedy court arraignment and did not appear in court as expected on May 5.
Thirty-year-old Faisal Shahzad is still being questioned by federal authorities and is said to be cooperating with investigators who are trying to discover the extent of what they believe is a terror "plot" that spans two continents.
"Based on what we know so far, it is clear that this was a terrorist plot aimed at murdering Americans in one of the busiest places in our country," U.S. Attorney General Eric Holder has said.
According to prosecutors, Shahzad has admitted to driving an SUV packed with explosives into New York's busy Times Square district on the evening of May 1. U.S. authorities also say he has told them that he received training in Pakistan's lawless border region of Waziristan.
Authorities in Pakistan have detained several people for questioning, including at least one person with ties to the militant Jaish-e-Muhammad group. The FBI says it has no confirmation that the detentions are directly related to Shahzad's case.
'Offer Full Support'
In Islamabad on May 5, Pakistani Interior Minister Rehman Malik pledged that his government would assist the United States in the investigation.
"We will offer full support and help to the U.S. authorities in bringing these culprits to justice," he said. "But we have to see in detail after we have seen the interrogation report, because we know that many attempts have been made to make a 'blame game' on Pakistan. We really do not know how this boy has been motivated. And if he has done this thing, we will be there to help the U.S. authorities to get them to justice."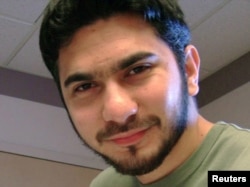 Terror suspect Faisal Shahzad
In Washington, State Department spokesman Phillip Crowley said the U.S. ambassador to Pakistan, Anne Patterson, has met with Malik, Pakistani President Asif Ali Zardari, and Foreign Minister Shah Mehmood Qureshi to develop a "collective approach" to the investigation.
"The Pakistanis are fully cooperating in the investigation. They recognize, as we do, that this is a shared responsibility and a shared threat to both of us," Crowley said.
Shahzad was charged with five terrorism-related counts on May 2. Under U.S. law, a person charged with a federal crime must be brought before a judge within a day or two to hear his rights and the details of the charges. A defendant can waive that right, as Shahzad has done.
He has been in custody for more than 48 hours since he was arrested late on May 3 at John F. Kennedy International airport after boarding a Dubai-bound plane. Border guard agents noticed Shahzad's name on the U.S. no-fly list minutes after the plane left the gate and alerted the pilot to abort the takeoff.
Change In Procedure
After a day of hand-wringing in Washington and New York over the question of how Shahzad was able to board the plane despite being on the banned-passenger list, the government began requiring airlines to check their passenger list against the no-fly list within two hours of being alerted that an update has occurred.
White House spokesman Robert Gibbs explained the reason for the change. "A review of the situation finds that an airline is required every 24 hours to check the no-fly list," Gibbs said. "The suspect's name was entered a little after noon on Monday, I believe. Therefore, though on the no-fly list, the airline didn't have to check necessarily at that point.
"The new rules require that that happen at a two-hour interval, if airlines are notified that somebody's been added as a risk, to the no-fly list."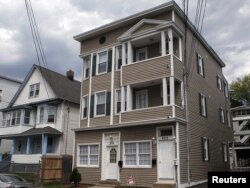 Shahzad's former home in Bridgeport, Connecticut
Also in Washington on May 5, a Congressional hearing scheduled before last weekend's bombing attempt saw New York City Mayor Michael Bloomberg urging lawmakers to close a loophole in U.S. law that allows suspected terrorists to buy firearms. Authorities found a 9-millimeter pistol and ammunition in Shahzad's car in the airport parking lot. Shahzad was not listed in a federal database of known terror suspects before his alleged crime.
'Blowback' For Pakistani Operations
More details have emerged about Shahzad's background, including that shortly after becoming a U.S. citizen in April 2009, he quit his job and stopped making payments on his house. He told a real estate agent to let the bank take the property because he was returning to Pakistan.
Shahzad's reported confession to U.S. authorities that he received bomb-making training at a terrorist camp in Waziristan came against the backdrop of the Pakistani Taliban claiming responsibility for the failed bombing attempt. U.S. officials are said to be investigating Shahzad's possible connection to that group. If a link is established, it would mark the first time the group has extended its reach to the United States.
A spokesman for Pakistan's Army says he does not believe the insurgent group was behind the attempt. But Pakistani Foreign Minister Qureshi says he believes the failed attack was in retaliation for the United States targeting followers of the Taliban. Speaking to CBS News, Qureshi called the car bomb "blowback" for stepped up U.S. military operations in Pakistan.
He added, "Let's not be naive. They're not going to sort of sit and welcome you to eliminate them. They're going to fight back. And we have to be ready for this fight."

written by Heather Maher, with agency reports