KYIV -- U.S. Vice President Joe Biden, on a visit to Kyiv, has delivered a positive message to a beleaguered Ukraine.
Despite Kyiv's paralyzing domestic political feuds and a deep recession, Biden said Washington's efforts to repair strained ties with Russia will not hurt U.S. support for Ukraine's push to integrate with the West.
Biden -- who is on a three-day tour that will also take him to Georgia -- made his comments at a joint news conference in Kyiv following talks with President Viktor Yushchenko.
"We're working, as you know, Mr. President, to reset our relationship with Russia," Biden said. "But I assure you and all the Ukrainian people that it will not come at Ukraine's expense. To the contrary, I believe it can actually benefit Ukraine."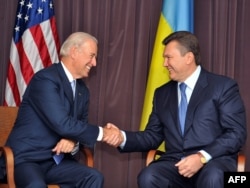 U.S. Vice President Joe Biden (left) meets with Party of Regions leader Viktor Yanukovych in Kyiv.
Biden spent his first full day in Kyiv holding separate talks with each of Ukraine's key political protagonists: Yushchenko, Prime Minister Yulia Tymoshenko, Party of Regions leader Viktor Yanukovych, and opposition leader Arseniy Yatsenyuk.
All four are contenders in Ukraine's January presidential election.
The U.S. vice president said his country backed Ukraine's ambitions to join NATO and upheld Ukraine's freedom to choose its allies -- a veiled jab at Russia, which strongly opposes its neighbor's NATO bid.
"If you choose to be part of the Euro-Atlantic integration, which I believe you have, we strongly support that. We do not recognize -- and I want to reiterate it -- any sphere of influence," Biden said. "We do not recognize anyone else's right to dictate to you or any other country what alliance you will seek to belong to or what relationships, bilateral relationships, you have."
Biden is expected to deliver the same message when he moves on to Georgia July 22-23, another former Soviet republic whose aggressive bid to join NATO has angered Moscow.
But the vice president was also expected to signal that U.S. support comes with conditions. In Ukraine, that would mean reform of the country's energy sector, while in Georgia, it would have more to do with democratic reform.
Dmitry Rogozin, Russia's envoy to NATO, dismissed Biden's trip as "psychotherapy" aimed at comforting both Ukraine and Georgia and said neither country has a chance of joining NATO soon.
Yushchenko called Ukraine a "European country where democracy rules."


Battered Reputation
Ukraine's energy sector has been plagued by financial woes and aging infrastructure.
Bitter gas pricing disputes between Moscow and Kyiv, which prompted Russia in January to halt supplies to Ukraine, have also battered Ukraine's reputation as a reliable transit route for Russian gas to Europe.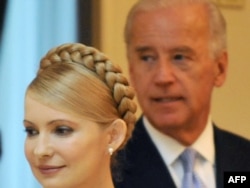 Prime Minister Yulia Tymoshenko with U.S. Vice President Joe Biden
Yushchenko told Biden that Ukraine would like foreign investors to help upgrade its gas transport network, which he described as "an integral part of the European gas market."
"We underscored the importance for Ukraine to integrate into new European projects to supply oil and gas from traditional and nontraditional [oil- and gas-producing] regions," Yushchenko said.
Biden's national security adviser, Tony Blinken, told reporters last week that Biden also intended to urge Ukrainian leaders to put their differences aside and "live up to the promise of the revolution."
Yushchenko and Tymoshenko, allies in the 2004 Orange Revolution that propelled Yushchenko to power, have been engaged in a protracted dispute after falling out over a number of issues.
In addition to his meetings with Ukrainian officials, Biden laid flowers and candles at a monument to the victims of the Great Famine of the early 1930s, which killed millions and which Ukraine insists was a deliberate act of genocide by Soviet dictator Josef Stalin.
The vice president leaves Kyiv for Georgia on July 22.

RFE/RL correspondent Claire Bigg contributed to this piece from Prague.