A U.S. warship carrying humanitarian aid has arrived in Georgia, as authorities assess the damage to the country's main east-west rail line after a fuel train hit a mine and exploded.
The guided missile destroyer "USS McFaul" entered Georgia's Black Sea port of Batumi, carrying humanitarian goods such as blankets, hygiene kits, and baby food. It's the first delivery of U.S. aid to Georgia by sea.
"First of all, it is a sign, meaning that Georgia is not alone, that Georgia will not be let alone in times of hardship," Georgian Defense Minister David Kezerashvili told reporters, adding that it also means Russia will not be allowed to interfere in Georgia or anywhere else on post-Soviet territory.
Other U.S. vessels are scheduled to follow later this week. The United States has already delivered aid by military cargo plane.
The United Nations says the conflict has displaced 150,000 people in Georgia, including South Ossetia.
Reports say Batumi is not a natural harbor for a naval vessel the size of the "McFaul." But Russia, ignoring Western demands to remove its remaining troops from Georgia's heartland, are still in control of the key Georgian port of Poti, some 80 kilometers north of Batumi.
Kezerashvili also said infrastructure at Poti was severely damaged during the fighting, preventing ships the size of the "McFaul" from using the port at this time, RFE/RL's Georgian Service reports.
Russian Checkpoints
The secretary of Georgia's National Security Council, Aleksandre Lomaia, told Reuters that Tbilisi had reached a deal with Moscow for the withdrawal of the Russian soldiers from Poti on August 24, but Russian officials said they could not confirm this.
Russian forces also continue to man checkpoints near the strategic town of Gori, in central Georgia.
Russia says its remaining troops are peacekeepers needed to avert further bloodshed and to protect the people of Georgia's separatist, pro-Moscow provinces of South Ossetia and Abkhazia.
Moscow maintains its current positions are in accordance with the six principles of a French-brokered cease-fire plan, an assertion contradicted by Georgian, U.S., and European leaders.
On August 23, French President Nicolas Sarkozy, who brokered a cease-fire between Moscow and Tbilisi, urged the Russian military to pull its troops back from its remaining positions deep within Georgia.
"Putting up permanent facilities and checkpoints are inconsistent with the [cease-fire] agreement," said Gordon Johndroe, a spokesman for U.S. President George W. Bush.
Fuel Train Explodes
Georgian officials are assessing the scale of the damage from the fuel-train blast, which has added to simmering tensions and could potentially disrupt a key trade route for oil exports from Azerbaijan to European markets.
"The railway is vital not just for the Georgian economy, but for the economy of neighboring countries," Georgian Prime Minister Lado Gurgenidze told Reuters.
Officials in Azerbaijan said oil cargoes were being held up at the Georgian border following the explosion.
A huge plume of black smoke could be seen pouring from the wreckage of the train outside the village of Skra, 5 kilometers west of Gori.
The governor of the surrounding Shida Kartli region, Vladimer Vardzelashvili, said the train was traveling near a military base that had been occupied by Russian troops until August 22. He said no one was injured in the explosion.
Georgian Interior Ministry spokesman Shota Utiashvili said the blast had also set off explosions at an abandoned munitions dump nearby. He blamed the incident on Russian troops. The Russian Defense Ministry declined to comment.
The director of Georgia's railways, Irakli Ezugbaia, said an investigation is under way and that other mines had been found on the tracks. Georgian forces also removed a large artillery shell that had been jammed under the tracks and covered with stones.
RFE/RL Georgian Service correspondent
Goga Aptsiauri
reports that a 47-year-old woman was killed when she stepped on a mine in front of her apartment building in a suburb of Gori. In a separate incident, a young Georgian man is in critical condition after he stepped on a mine in the village of Tirdznisi, north of Gori.
David Tkeshelashvili, the state minister for regional governance, told RFE/RL that authorities have begun to demine areas previously occupied by Russian forces. But he said the latest incidents show that the authorities will have to expand the scope of their efforts.
"Unfortunately, a lot of surprises of this nature are still in front of us," Tkeshelashvili said.
with agency reports
Crisis In Georgia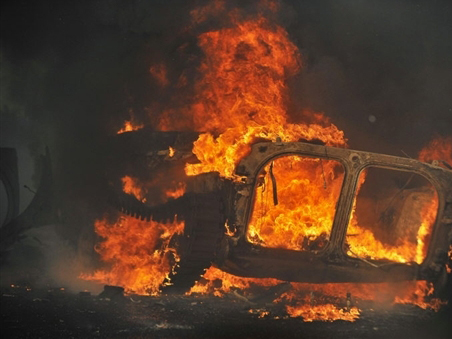 For RFE/RL's full coverage of the conflict that began in Georgia's breakway region of South Ossetia,
click here
.