WASHINGTON -- American Sarah Shourd, who has been held in Iran for more than a year on suspicion of spying, has been released by authorities in Iran and is en route to Oman.

U.S. State Department spokesman Philip Crowley made the announcement at a press briefing in Washington. "We are very gratified we received confirmation a few minutes ago that Sarah Shourd has departed Tehran en route to Muscat, Oman," he said.

Shourd is one of three young Americans who were detained in July 2009 along the border with Iraq during what their families said was a hiking vacation.

The 32-year-old Shourd and two other Americans, Shane Bauer and Josh Fattal, were charged with espionage and illegal entry. The trio have rejected the charges, saying they entered Iran by mistake after getting lost during a trek in Iraqi Kurdistan. Washington also denies the allegations.

Shourd spoke briefly to Iran's state-run English-language Press TV before she boarded a plan to Oman. "I want to really offer my thanks to everyone in the world, all of the governments, all of the people that have been involved," she said. "I especially and particularly want to address President Ahmadinejad and all of the Iranian officials and religious leaders and thank them for this humanitarian gesture."

U.S. President Barack Obama welcomed Shourd's release, but said the United States "remain(s) hopeful that Iran will demonstrate renewed compassion by ensuring the return of Shane, Josh and all the other missing or detained Americans in Iran."

Unknown Bail Payer

Iranian authorities demanded $500,000 bail for Shourd's release -- a sum her family said it would have difficulty raising.

The news that bail had been paid was announced by Tehran Prosecutor-General Abbas Jafari Dolatabadi, who told Press TV that the amount had been deposited in an Iranian bank in Muscat, Oman. It was not clear who posted the bail.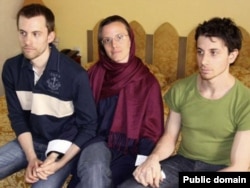 Shane Bauer (left), Sarah Shourd (center), and Josh Fattal in Tehran on May 20
State Department spokesman Crowley denied that the United States government made the payment. "Someone provided sufficient assurances to the government of Iran that satisfied their stipulations for [Sarah Shourd's] release," he said.

Because the United States has no diplomatic relations with Iran, its interests are represented in Tehran by the Swiss goverment. Crowley suggested that it, or Oman, might have been involved.

"I don't know what the specific actions were. As you know we had our Swiss protecting power working on the ground in Tehran; we had Omani diplomats working on our behalf; other countries have weighed in with Iran bother over months and in recent days. And the combination of that diplomatic effort was that arrangements were made that satisfied Iranian requirements under their judicial system," Crowley said.

Worrying Health

Earlier, Tehran Prosecutor-General Dolatabadi told reporters that Shourd's bail was granted on health grounds.

According to Shourd's mother, who visited her in May, her daughter suffers from severe health problems, including a pre-cancerous cervical condition, a lump in her breast, and depression. After her daughter's release was announced, Nora Shourd said, "I've hoped and prayed for this moment for 410 days and I cannot wait to wrap Sarah in my arms and hold her close when we are finally together again."

Shourd was initially expected to be freed September 11 as an act of clemency to mark Eid al-Fitr, the end of the Muslim holy month of Ramadan.

But the Tehran prosecutor said the decision over her release was delayed over legal technicalities.

Dolatabadi pointed out that despite Shourd's release, her case will still go to trial, along with the two other Americans who remain in custody.

An online support group for the three, called "Free The Hikers," welcomed Shourd's release and urged Tehran to free her two companions.

But a statement from Iran's judiciary today suggests friends and families still have some time to wait -- it said the "pretrial detention" of the two men has been extended for two more months.