A detained American will be released on bail of $500,000, Iranian media have quoted a Tehran prosecutor as saying.
Sarah Shourd and two other Americans, Shane Bauer and Josh Fattal, were detained near the border with Iraq in July 2009. Tehran has accused them of illegally entering the country and spying. Washington denies the allegations.
Tehran Prosecutor-General Abbas Jafari Dolatabadi told the state-controlled English-language Press TV that Shourd's lawyer has been informed that she can be freed on a bail of $500,000.
The prosecutor was quoted as saying the conditions of the bail do not prohibit Shourd from leaving Iran.
A White House adviser, David Axelrod, told NBC on September 12 that the United States is "hopeful" Iran is set to release Shourd.
The three Americans, who are being kept in Tehran's Evin Prison, were charged with espionage and illegal entry. The trio rejects the charges, saying they entered Iran by mistake after getting lost during a trek in Iraqi Kurdistan.
Shourd's bail was granted on health grounds, Dolatabadi told reporters.
According to Shourd's mother, Nora, her 32-year-old daughter suffers from severe health problems, including a pre-cancerous cervical condition, a lump in her breast, and depression.
It was expected that Shourd would be released on September 11 as an act of clemency to mark Eid al-Fitr, the end of the Muslim holy month of Ramadan.
But the Tehran prosecutor said the decision over her release was delayed over legal technicalities.

Two Americans Remain Detained
Dolatabadi pointed out that despite Shourd's release her case will still go to trial along with the two other Americans who remain in custody.
Shourd's lawyer, Masud Shafii, said he was hopeful that Shourd will go home "within the next two to three days."
The lawyer said the Swiss Embassy in Iran, which represents U.S. interests in the country, was making arrangements for the payment of the bail for Shourd. Iran and the United States do not have direct diplomatic relations.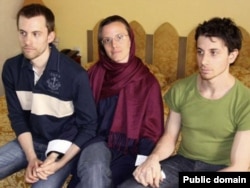 The three Americans were allowed access to their mothers in May.
The period of detention for the other two Americans, Bauer and Fattal, had been extended by two months, said Shafii. No trial date has been fixed, the lawyer added.
Iran's hard-line President Mahmud Ahmadinejad has suggested that the three could be swapped for Iranians citizens claimed to be held in U.S. custody.
Talk of such prisoner swaps circulated after an Iranian researcher, Shahram Amiri, returned home from Washington. Amiri had gone missing in Saudi Arabia in 2009 and resurfaced in the United States in July. He claimed he had been abducted by U.S. intelligence agents.
The Tehran prosecutor, however, told Iranian news agencies there was no link between Amiri's case and that of the three Americans.
He reiterated that espionage charges against Shourd and the two others were still valid.
Iran's Foreign Ministry, however, has said the spying charges were still under investigation and not yet confirmed. The main charge was the illegal entry into the country, the ministry said.
U.S. President Barack Obama and other senior officials and human rights groups have called on Tehran to free the three Americans.
Last May, Iranian officials allowed the mothers of the three Americans to visit them in Tehran.

compiled from agency reports