WASHINGTON (Reuters) -- The United States has called on Iran to release U.S. citizen Kian Tajbakhsh and said it was "deeply concerned" about the scholar, who was detained in Tehran last week and has previously been accused of spying.
Tajbakhsh, an Iranian-American who holds a doctorate in urban planning from Columbia University, was arrested by Iranian authorities in May 2007, charged with spying and then released after more than four months in Tehran's Evin prison.
It was not clear why Tajbakhsh was detained last week.
Iran has sought to crush demonstrations after its disputed June 12 presidential election, which defeated candidate Mir Hossein Musavi says was rigged in favor of hard-line President Mahmud Ahmadinejad.
Iranian authorities have accused foreigners of fomenting the demonstrations.
In 2007, Tajbakhsh was one of several Iranian-Americans who were jailed by Iran and became pawns in the strained relations between Tehran and Washington. Iran does not recognize dual nationality.
The United States, which cut diplomatic ties with Iran after the 1979 Islamic Revolution, accuses Iran of seeking to develop nuclear weapons. Iran says its nuclear program is to generate electricity so it can export more oil and gas.
"We're deeply concerned [about] reports that an Iranian-American scholar has been unjustly detained in Iran," State Department spokesman Ian Kelly told reporters.
"We have urged the Iranian authorities to immediately release Kian Tajbakhsh, as well as return the passports of all Americans being kept in Iran on groundless charges, he added, citing Iranian-American graduate student
Esha Momeni
.
Momeni visited Tehran to research a master's thesis on the women's rights movement in Iran and was arrested on October 15 on a traffic violation. According to Kelly, she has been barred from leaving the country since her release from prison in November.
Iran Election Diary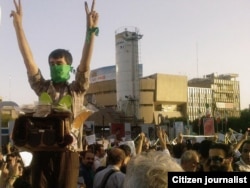 Disputed Presidential Vote
There have been protests and clashes with police on the streets of Tehran following the disputed reelection of Mahmud Ahmadinejad. RFE/RL collects videos, photos, and messages on social-networking sites coming out of Iran to attempt to get a picture of what is happening inside the country.
Click here
The Battle For Iran's Future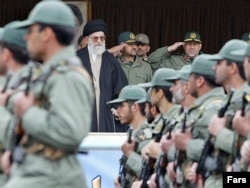 The Battle For Iran's Future
With much more than a disputed presidency at stake for Iranians, RFE/RL's Charles Recknagel and Mazyar Mokfi explore the power plays that could reshape Iran's political establishment.
Click here
for news, blogs, and analysis of the presidential election and aftermath.
Iran Election Special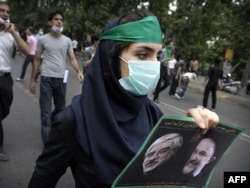 RFE/RL's Full Coverage
Following the disputed reelection of Iranian President Mahmud Ahmadinejad, supporters of Mir Hossein Musavi have taken to the streets to protest.
Click here
for news, blogs, and analysis of the presidential election and aftermath.