(RFE/RL) -- A man suspected of killing independent Ukrainian journalist Heorhiy Gongadze in 2000 has been detained in Ukraine.
Lieutenant General Oleksiy Pukach, the former head of criminal investigations for Ukraine's Interior Ministry, was first detained in the fall of 2003 in connection with the murder, but was later released, and fled.
Investigators say Pukach led a group of police officers in Gongadze's abduction and murder.
The Gongadze case has done much to shape the international image of Ukraine over the past decade.
Lieutenant General Oleksiy Pukach
The journalist, a persistent critic of the government, was abducted in 2000. A decapitated, partially burned body believed to be that of Gongadze was found in a forest two months later.
The brutal murder undermined the presidency of Leonid Kuchma, destroyed the reputation of the Ukrainian security organs, and brought strong criticism from the Organization for Security and Cooperation in Europe (OSCE) and the European Union.
Now, Ukrainian media say the man alleged to have personally strangled Gongadze has been detained in the country's Zhytomyr region.
"[Oleksiy Pukach] has been arrested [and] he has been questioned," Ukrainian Deputy Prosecutor-General Viktor Kudryavtsev told journalists in Kyiv. "He has testified to the circumstances of the charges brought against him."
Pukach is a former lieutenant general in the Interior Ministry police who headed the ministry's criminal investigation department at the time of Gongadze's disappearance.
The Prosecutor-General's Office said Pukach had been detained in the course of a joint operation with the security services.
On The Run
Pukach was originally detained in 2003 on suspicion of destroying documents ordering police to shadow Gongadze. He was released by an appeals court but told not to leave Kyiv. He disappeared soon afterward and has been on the run ever since.
Three policemen who assisted in the murder and disposal of the body are serving long jail sentences. Convicting the alleged ringleader would finally close the book on who actually killed the 31-year-old journalist.
But it leaves unsolved the key question of who ordered the killing.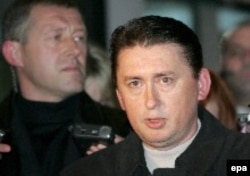 Mykola Melnychenko
Mykola Melnychenko, a former Kuchma bodyguard, released recordings in 2000 which he said he had made while in the president's employ. The tapes allegedly contain recordings of Kuchma ordering Gongadze's kidnapping and murder.
Kuchma eventually admitted that one of the voices on the tape was his own, but he claimed it had been "doctored" to twist the meaning of what he said. A second voice on the tape was believed to be that of then Interior Minister Yuriy Kravchenko, who was later found dead in his home from a gunshot wound.
The case tore Kuchma's reputation to tatters and led to massive street protests against the president and the state regime, culminating in the 2004 Orange Revolution and the election of pro-Western Viktor Yushchenko to the presidency.
Gongadze's widow, Myroslava, and their children sought asylum in the United States and now live there.