Not long ago, Andriy Lalak was treated like one of BM Bank's most valued customers. But when he shows up there now, employees avoid him like the plague.
For over a month, Lalak has been trying unsuccessfully to withdraw 100,000 hryvnyas ($11,700) from his account, money he says he needs to expand the small trading company he runs in the western Ukrainian city of Lviv.
But Ukraine's cash-strapped banks, reeling from declining liquidity and a choked-off credit market, have suspended all cash withdrawals. Lalak and a small group of friends have begun to stage daily protests outside the bank.
"We are defenseless. We have no recourse," Lalak tells RFE/RL's Ukrainian Service. "It is as if there is a conspiracy not to return money to depositors like myself. Money needs to be liquid. It needs to be invested in businesses. I wanted to buy an apartment to expand my business. But as a result of this situation, my business can't develop."
Lalak's situation is hardly unique. Ukraine is struggling through a mushrooming economic crisis that the country's weak and warring political institutions appear increasingly incapable of addressing. Unemployment and inflation are on the rise, the currency is collapsing, and GDP growth is shrinking at an alarming pace.
And as if all that isn't enough, the president and prime minister are barely on speaking terms as a debilitating default and crippling energy crisis looms.
Last week, Ukraine narrowly averted a new natural-gas conflict with neighboring Russia when it paid off the final $50 million installment of a $360 million gas bill to Gazprom just hours after Russian Prime Minister Vladimir Putin threatened to cut off supplies for the second time this year. Difficult negotiations are expected with the International Monetary Fund (IMF) over an emergency loan.
Getting through the current crisis, which many economists call the worst global downturn since the Great Depression, presents a daunting challenge for even the most cohesive and focused governments -- and Ukraine's government is neither.
Observers say the endless bickering between President Viktor Yushchenko and Prime Minister Yulia Tymoshenko, allies in the pro-Western Orange Revolution just four years ago, is tearing the elite apart and handcuffing anticrisis efforts as the government seeks foreign assistance to ward off economic catastrophe.
"There is a total inability among the Ukrainian elite to deal with the crisis, at the economic and also at the political level," says Eugeniusz Smolar, director of the Warsaw-based Center for International Relations. "This is a time of national crisis and they are acting as if it were one of those standard mini-crises that they have been facing. This is not like that. This is a mega-crisis."
Looking Over The Brink
And it is a mega-crisis that many analysts fear could cause social unrest, opening the door to possible meddling by Russia, and potentially destabilizing a strategically important country. Just a few years ago, Ukraine -- a sprawling country of 46 million people tucked between Russia and the European Union -- was touted as one of the region's most promising young democracies. Now, that legacy is deeply in doubt.
In recent weeks, truckers angry over high taxes briefly blocked the vital Kyiv-Odesa highway. Kiosk owners in Kyiv have demonstrated against the city's plans to force them to buy new stalls. And workers at a combine factory in Kherson, in eastern Ukraine, briefly occupied the city hall to protest wage arrears. Entire towns, unable to pay utility bills, have gone days without heat or water.
Ukrainians have proven remarkably resilient in difficult times, but analysts say the current crisis could push this well-worn tolerance for economic pain to the breaking point.
"Ukrainians really have an ability to muddle through difficult situations. They also have this ability to go to the edge, look over the brink, and then draw back. The problem is that if you go to the brink too many times, you can slip over," says Steven Pifer, a former U.S. ambassador to Ukraine who is now a visiting fellow at the Brookings Institution.
"This is a year where the Ukrainians, if they are not careful, could end up in a very difficult situation, or could end up missing the opportunity to reduce just how difficult this year is going to be."
Ukraine's economy is largely dependent on steel and chemical exports, both of which have plummeted amid declining global demand.
Industrial production has fallen by 34.1 percent in January alone, the sharpest drop since Ukraine won independence in 1991. The country's main stock market, the PFTS index, has tumbled 33 percent this year. Official unemployment rose 0.2 percentage points in January, and workers are bracing for more job losses as key steelmakers cut production. Volodymyr Halytskyi, head of the State Employment Office, says joblessness, currently at 3.2 percent, could hit 9 percent this year.
The sharp downturn is reminding Ukrainians of the hardships they endured in the early 1990s following the breakup of the Soviet Union.
"People remember times when they were not paid for months and they had to rely on some small plot of land outside of town from which they brought back potatoes," Smolar says. "People thought they put these bad times behind them. But it is not impossible that these bad times are returning."
Hostage To Politics
In an effort to avert a default on its sovereign debt and to stabilize its banking system and currency, Ukraine turned to the IMF last year for a $16.4 billion bailout loan -- but those negotiations have been hampered by the ongoing feud between Yushchenko and Tymoshenko.
The IMF released the first $4.5 billion tranche of the loan in November. But after Tymoshenko's government put forward a budget projecting a 5 percent deficit in February, the IMF -- which is demanding a smaller deficit -- refused to release the second $1.9 billion installment.
The IMF is also seeking a gradual increase in Ukraine's retirement age, which is currently 60 for men and 55 for women, and an end to state subsidies for natural gas to households. Both are moves that the prime minister, who is looking ahead to next year's presidential election, is reluctant to make.
Tymoshenko won votes in the September 2007 parliamentary elections by promising lavish social spending and has been loathe to cut the budget or inflict pain on voters in an election year. Yushchenko, for his part, sought a lower deficit and supported further spending reductions.
Anticipation of the presidential election, expected in January 2010, is shaping the agenda of both Tymoshenko and Yushchenko, and each has been reluctant to give the other any kind of political advantage as an anticrisis program is debated. The main opposition leader and former prime minister, Viktor Yanukovych, who controls the largest single faction in parliament, is also planning to seek the presidency.
Amid the impasse, fiscally conservative Finance Minister Viktor Pynzenyk resigned, saying his job had become "hostage to politics."
Observers say the mismanagement and feuding among Ukraine's rulers is exacerbating an already dire situation.
"To a large extent, this crisis simply has to be lived through. It is going to get worse for objective reasons. Unfortunately the corruption and incompetence of the current government is making things worse, there is no question," Ivan Lozowy, a Kyiv-based political analyst, says.
Yushchenko announced a budget review on March 2 after meeting with Tymoshenko, and the two agreed to set aside their differences to reach a compromise that would be acceptable to the IMF. The IMF, in turn, has relaxed its target budget deficit from less than 1 percent of GDP to 3 percent.
No sooner had the president and premier reached an understanding on the budget than a fresh conflict erupted over energy. On March 4, armed agents from the Ukrainian Security Service (SBU) raided the offices of the state-run gas company Naftogaz. The SBU, which is loyal to Yushchenko, says it was investigating corruption in the company, which is seen as loyal to Tymoshenko.
The protracted conflict between the president and prime minister, analysts say, threatens to erode the country's rapidly declining international credibility.
"It feeds into this unhealthy battle that goes back and forth. It runs the risk at some point -- if we haven't passed that point already, in some countries -- that they stop taking Ukraine as a serious entity," Pifer says. "Serious countries don't have this level of conflict."

Halyna Tereshchuk of RFE/RL's Ukrainian Service contributed to this report from Lviv
World Economic Crisis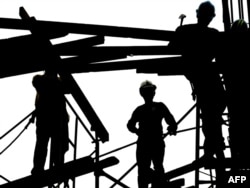 Multimedia coverage on the impact of the global financial crisis on markets and individuals across RFE/RL's broadcast region. More