* Clarification Appended
The subprime of Europe. Ripe for a financial meltdown. Recent news reports have depicted in often dramatic terms the crisis hitting Central and Eastern Europe.
And little wonder. The region is experiencing slowing growth, slumping production, a drying up of credit and -- in several cases -- plummeting currencies. And there have also been concerns that Western European banks could be at risk because of lending to the East.
Those hit earliest and hardest include Latvia, whose GDP plummeted 10.5 percent in the last quarter of 2008 and was one of the first to get emergency aid from the International Monetary Fund (IMF).
But the region is wide and varied and also includes the -- relatively -- robust Czech Republic.
"It's a difficult period. Having said that, in terms of what they have experienced to date in many ways it's not much worse -- or in terms of growth it's less [badly hit] -- than Western Europe," says Erik Berglof, the chief economist of the European Bank for Reconstruction and Development (EBRD).
But Berglof says that the worry is what the next year will bring to the region. What's important, he says, is that "there is a policy response and that there is some degree of coordination of policy response across countries."
'Clear Road Map'
A key element of that response, Berglof says, is that that West European banks, which own large chunks of the banks in Central and Eastern Europe, continue to lend to their subsidiaries. That's because the region's banks need to refinance some $130 billion of short-term debt this year.
The parent banks are, in many cases, themselves being rescued by governments across the European Union. So Berglof says he's heartened by a March 1 promise from EU leaders that the subsidiaries -- at least in the new EU states -- should be able to get a share of those rescue funds.
"That's a very important element of addressing the crisis now because these parent banks are critical to supporting the banks in the region," he says. "To date they have essentially done so, so when all other sources of finance has dried up this parent-bank link has been essentially intact."
The crisis has prompted Hungary to call for an easing of the rules for euro membership, an idea Poland says it would be happy to see happen. That idea was rejected by eurozone finance ministers this week. But Berglof says eurozone and European Central Bank (ECB) leaders can still do more to help.
"The important thing is to provide them with a clear road map toward euro accession," Berglof says. "That's incumbent on these European leaders to provide that road map, combining that with some tailored measures, for example, some support from the ECB to increase the availability of foreign exchange in some of these countries that are on the path to euro accession."
Ukraine 'Very Vulnerable'
Ukraine has been hit particularly hard by the crisis and is one of several that have turned to the IMF for help.
"I think Ukraine is possibly the most exposed country at the moment," Berglof says, "it was very exposed because of its reliance on a few industries particularly steel, you also had very large exposure in terms of foreign exchange in the corporate and household sectors."
He says a pressing problem now is Ukraine's "politically difficult" situation as well as the fact some key positions at the National Bank and Finance Ministry are unfilled.
As part of its response to the crisis, the EBRD, along with the World Bank and the European Investment Bank, late last month announced a $31-billion aid package for business and banks in the region.
* The 10th paragraph of this story has been reworded to clarify Poland's position on euro membership.
World Economic Crisis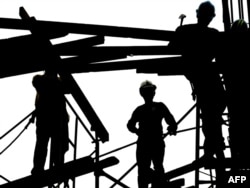 Multimedia coverage on the impact of the global financial crisis on markets and individuals across RFE/RL's broadcast region. More