KYIV -- Ukrainian Prime Minister Yulia Tymoshenko has announced that the government will bail out three of five banks hit particularly hard by the financial crisis, RFE/RL's Ukrainian Service reports.
The government is investing 9.5 billion hryvnyas ($1.25 billion) in the three banks and will thereby own about 84 percent of each bank.
The new management teams selected by the government will take over the banks next week.
The three banks involved are Rodovid (formerly owned by Ukrainian pole-vaulting champion Serhiy Bubka), Ukrhazbank (formerly owned by Vasyl Horbal of the opposition Party of Regions), and the Kyiv Bank.
Tymoshenko said that once the banks become viable, the government will sell its shares in the banks.
The two other banks in negotiations with the government about a possible bailout pulled out of the talks, saying they found the government's terms unacceptable.
World Economic Crisis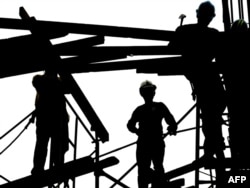 Multimedia coverage on the impact of the global financial crisis on markets and individuals across RFE/RL's broadcast region. More