A Ukrainian government official has called on the European Union to help Kyiv avoid a "security vacuum" like the one that led to the current conflict between Russia and Georgia.
"For a very long time, it's been clear that there was a security vacuum in the South Caucasus," Deputy Prime Minister Hryhoriy Nemyria said in an interview with RFE/RL's Ukraine Service. "It's a lesson for Ukraine. Ukraine is the largest post-Soviet country after Russia, and one that shares a long border with the European Union. It can't be left in a similar vacuum."
Nemyria was speaking in Kyiv following three days in Tbilisi meeting with Georgian officials and coordinating humanitarian aid shipments to the country.
Ukraine, a recent ally of Georgia since both countries' "colored revolutions" brought pro-democratic leaders to office, has been staunch in its support of Tbilisi since the start of Georgia's armed conflict with Russia over the breakaway republic of South Ossetia.
Ukrainian President Viktor Yushchenko joined a delegation of five Eastern European leaders who traveled to the Georgia in a show of solidarity with Georgian leader Mikheil Saakashvili, and Ukraine has warned that Russia would face restrictions on if its Black Sea Fleet, which is based in the Ukrainian port city of Sevastopol, was used in any aggressive actions against Georgia.
The posture has angered Russia, which often seems to regard both Ukraine and Georgia as wayward neighbors that should be brought back into Moscow's orbit. Kyiv and Tbilisi have actively sought membership in the NATO military alliance, an aim that infuriates the Kremlin and is believed to have played a significant role in Russia's military advance on Georgia.
Nemyria acknowledged the possibility that Russia might next turn its focus to Ukraine. "I think old habits die hard," he said of Russia. "What we can see in this overreaction is that there is a risk [for Ukraine]. And of course, Ukraine has a frozen conflict on its own border" -- a reference to Moldova's breakaway region of Transdniester, which like South Ossetia and a third separatist region, Abkhazia, enjoys Moscow's strong support.
"We want to avoid a security vacuum that will be prone to a defrosting of such a frozen conflict," he said. "European leaders must now realize that the South Ossetia conflict has opened such a vacuum throughout the entire area that Moscow sometimes calls its 'near abroad.' We welcome the EU's effort -- led by France, and supported by Germany and others -- to be more visible as an actor in the region."
Nemyria dismissed speculation that Prime Minister Yulia Tymoshenko -- who has been notably silent on the current Georgia-Russia conflict -- is hoping to secure Russia's support for a future presidential bid.
"The government of Ukraine adopted a clear position, the centerpiece of which was the recognition and support of the sovereignty and territorial integrity of Georgia," he said. "The president of Ukraine took the lead in voicing the official Ukrainian position, and we felt no need to repeat it. Those accusations against the prime minister are misplaced."
Crisis In Georgia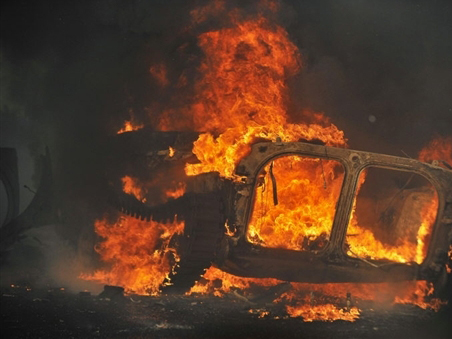 For RFE/RL's full coverage of the conflict that began in Georgia's breakway region of South Ossetia,
click here
.