Six journalists from the "Ekspress" newspaper chained themselves to a Budapest-to-Moscow train today in the western Ukrainian city of Lviv to protest restrictions on the independent media, RFE/RL Ukrainian Service reports.
The protest was carried out under the motto "Where are we going?"
More than 50 journalists in total took part in the action at the Lviv train station.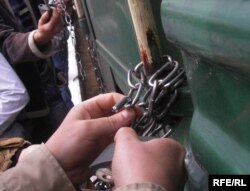 "Ekspress" journalists chained themselves to a train.
The journalists told RFE/RL they intentionally chained themselves to the train that goes from Europe -- where press freedom exists -- to Russia, where they said it is limited. They added that Ukraine is at a crossroads between Russia and the West.
"Ekspress" editor in chief Ihor Pochynok said that since Viktor Yanukovych became president earlier this year, the situation regarding independent media outlets has significantly worsened.
He said freedom of speech exists only "on paper" and that journalists in Yanukovych's Ukraine do not feel safe.
The protesters demanded the Prosecutor-General's Office open a case according to Article 171 of Ukraine's Criminal Code on "obstruction of journalistic activity."
In March, a case was filed against the Ekspress publishing group that alleged it had failed to pay 2.6 million hryvnia (about $328,000) in taxes. The publisher said the additional demand is illegal and the charges were "fabricated."
In April, several "Ekspress" journalists were beaten by police.
Today's protest was the third action in recent months. "Ekspress" journalists said they are prepared to take more determined steps if authorities do not react to their demands.