Ukraine's new President Viktor Yanukovych promised to restore relations with Russia today during his first trip to Moscow since Ukrainians last month voted out their former pro-Western leadership that took power in the Orange Revolution.
Western countries are closely watching today's visit for signs of just how far Yanukovych aims to reposition Ukraine, a strategic energy-transit route over which Russia and the West are tussling for influence.
Speaking at a chummy joint news conference after meeting Russian President Dmitry Medvedev, Yanukovych said he wants to make a "sharp turnaround" in relations saying after the drastic deterioration in ties that followed the Orange Revolution.
"The new authorities in Ukraine will change relations with Russia so they'll never again be what they have been for the past five years," Yanukovych said, and he also praised Russia's "political stability."
A satisfied-looking Medvedev welcomed Yanukovych's words. The Russian leader said Yanukovych's election was an "indisputably positive signal" for relations, which he said would be "reborn on all levels" on the basis of "warm feelings and pragmatism."
"I hope the black streak that existed in relations between Ukraine and Russia will come to an end," Medvedev said.
He singled out energy as a key sphere for cooperation, but didn't indicate whether Moscow was open to reducing its high prices for natural gas, an important issue for crisis-stricken Ukraine.
Yanukovych was set to also meet Prime Minister Vladimir Putin.

More Russia-Friendly
Moscow is gleeful over Yanukovych's election, which exposed a country split between its Russian-speaking east -- which overwhelmingly supported him -- and its European-looking west.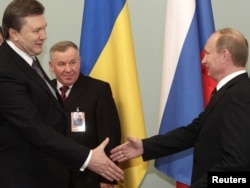 Yanukovych (left) shakes hands with Russian Prime Minister Vladimir Putin.
Moscow openly campaigned for Yanukovych during Ukraine's presidential election in 2004, when the opposition accused the Kremlin of meddling in the country's internal affairs. But Russia's bid to help elect the old pro-Moscow administration's candidate backfired after Yanukovych won an election the Supreme Court later ruled had been rigged.
Hundreds of thousands of protesters spilled out onto the streets in what became the Orange Revolution, whose pro-Western leaders came to power following a new election.
Kyiv's relations with Moscow crashed. Russia vehemently objected to Ukraine's new drive to join NATO and other policies it saw as giving the West influence over former Soviet territory in its own backyard. The Kremlin feared the Orange Revolution would provide a model to those Russians chafing under its own authoritarian rule.
Moscow temporarily shut off natural gas to Ukraine after Kyiv refused to pay many times more for supplies the Kremlin said it had provided at Soviet-era subsidized rates. A second shutoff last year lasted three weeks, disrupting deliveries to millions in other European countries.
Last year, Medvedev accused then-President Viktor Yushchenko of being "anti-Russian." He recalled Russia's ambassador to Ukraine, saying Moscow wouldn't speak to Yushchenko, who accused the Kremlin of trying to kill him in a poisoning during the 2004 presidential campaign that dramatically disfigured his face.
No Word On Gas
The latest turnaround in relations with Russia comes after Yanukovych -- democratically elected this time -- narrowly defeated his rival, Orange Revolution heroine Yulia Tymoshenko.
The new president has pleased Moscow by indicating he'd put an end to Ukraine's drive to join NATO.
But although Ukraine pays more for gas than most European countries, the Kremlin on March 4 appeared to preempt talk of a renegotiation, saying the latest agreement shouldn't be revised.
Yanukovych has proposed creating a consortium with Moscow and the European Union that would control Ukraine's pipeline network, which some believe would establish closer ties with Russia's Gazprom.
He could entice Moscow by offering to prolong the lease for the Russian Navy's controversial Black Sea Fleet base in the Ukrainian city of Sevastopol. The current deal is set to expire in 2017, a date Yushchenko had insisted was firm, but over which Yanukovych today indicated he'd seek compromise.
"We'll very soon [reach a resolution] that will satisfy both Ukraine and Russia," he said.

Delicate Balance
But despite tilting Ukraine back toward Moscow, Yanukovych has said he wouldn't "dramatically change" Ukraine's foreign policy. His first trip abroad as president earlier this week was to Brussels, where he said European integration would remain a priority.
"Our priorities will include integration into the European Union," he said, "bringing up friendly and constructive relations with the Russian Federation, and developing friendly relations with the neighboring partners, and strategic partners like the United States of America, getting back on track our relations with the International Monetary Fund and other international financial organizations."
Yanukovych's most pressing task remains at home: to pull Ukraine out of its devastating economic crisis. He's keen to restart talks with the International Monetary Fund, which last year froze a $16.4 billion bailout.
But as he also recalibrates Kyiv's foreign policy, both Russia and the West are waiting to find out just how far east he believes the balance lies for Ukraine's national interests.