(RFE/RL) -- A Russian judge known for his tough verdicts against skinheads has been killed in a contract-style shooting that has shocked officials and activists combating ultranationalist violence.
A gunman shot Eduard Chuvashov in the stairwell of his Moscow apartment building as he was leaving for work early on April 12. He died on the spot.
President Dmitry Medvedev denounced the slaying as "cynical" and vowed to track down the killers.
Sova, a group that monitors hate crimes in Russia, says Chuvashov had been receiving death threats for several weeks.
Sova deputy head Galina Kozhevnikova says an ultranationalist website incited hatred against Chuvashov on the Internet and listed his name on a so-called list of "enemies of the people" last month.
"We found out about Judge Chuvashov after threats were made against him on a website close to Russky Obraz," an ultranationalist group, Kozhevnikova says.
"His picture was posted, together with a small audio recording from a closed court hearing. The recording had an incorrect transcription and the judge was accused of Russophobia. This post generated a huge number of aggressive comments."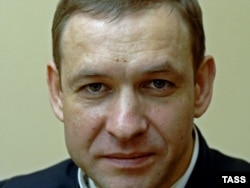 Eduard Chuvashov had sentenced a number of skinheads to prison.
Activists say Chuvashov's killing could have been retribution from far-right groups. Russian news agencies quoted an unnamed law enforcement source as saying ultranationalists were probably to blame.
Fighting Racist Violence
The 47-year-old judge last week sentenced two skinheads to 10 years in prison. Their group, the Ryno Gang, was convicted of killing 20 people of "non-Slavic" appearance and posting videos of the murders on the Internet.
In February, Chuvashov jailed nine members of White Wolves, a gang of mostly teenage skinheads that clubbed and stabbed dark-skinned migrants to death. Sova says Chuvashov received threats during the trial.
Vladimir Mironov, a retired judge, says intimidation and violence against judges were once unimaginable. "Judges were never afraid of anyone. There was a public agreement that judges are untouchable, that they are the law," he says.
"When we worked in court, we didn't have any bailiffs or officers of the court, at best a police officer stood at the entrance, and not in all places. We weren't afraid of anyone."
Activists say official indifference and widespread xenophobia have allowed racist violence to flourish.
Sova estimates at least 71 people were killed in hate crimes in Russia last year and more than 330 others wounded.
Targeting Activists
Kozhevnikova says far-right nationalists are increasingly targeting judges, lawyers, rights defenders, and journalists.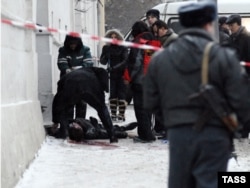 Stanislav Markelov and Anastasia Baburova were shot dead in central Moscow in broad daylight.
"The turning point came in December 2008, when almost all more or less aggressive [nationalist] groups began openly declaring an antigovernment terror," she says.
"Their logic is: 'If we kill migrant workers, no one cares. But if we kill famous people it has repercussions, we demonstrate our strength, our impunity, our audacity, and it is a good advertisement for our movement.'"
In January 2009, human rights lawyer Stanislav Markelov and opposition journalist Anastasia Baburova were shot dead in central Moscow. The authorities blamed the killings on nationalists.
Markelov had represented the mother of an antifascist campaigner believed to have been slain by neo-Nazis.
According to official figures, at least 31 judges were assaulted in Russia between 1996 and 2009.
RFE/RL's Russian Service contributed to this report