G-20 Seeks To Forge New Economic World Order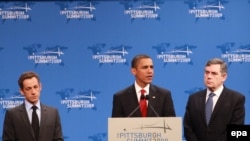 PITTSBURGH -- Leaders from the Group of 20 nations have agreed to transform the organization into the world's premier economic body with collective measures aimed at keeping the global economic recovery moving and preventing a repeat of last year's financial crisis.
The G-20 emerged on September 25 from its two-day summit with a pledge to launch a framework for joint action that will encourage balanced, reasonable growth and to impose strict new reforms on international financial institutions that will change the way the world does business.
U.S. President Barack Obama hosted the gathering in the formerly smoky steel city of Pittsburgh, which has reinvented itself over the last decade as a green urban center for high-tech businesses.
It was the third meeting of the world's biggest economies since the financial crisis -- some have called it a tsunami -- hit last year, following the collapse of the U.S. investment bank Lehman Brothers.
At the group's last meeting in April, in London, emergency measures were put in place to prevent a total collapse of the world economy. They included massive public stimulus packages in member nations and government bailouts of faltering financial institutions.
At the end of the Pittsburgh summit, Obama said the "bold and coordinated action" the group took had worked.
"We've bought the global economy back from the brink," Obama said. "We laid the groundwork today for long-term prosperity, as well."
Bigger Tent
British Prime Minister Gordon Brown echoed Obama's upbeat assessment, saying the group -- which represents more than 4 billion people -- has "agreed to a global plan for jobs, growth and a sustained economic recovery."
The G-20 represents about 85 percent of global economic output and includes leading industrial countries like Germany and Japan along with emerging powerhouse economies like China, India, and Brazil.
Those emerging states were given more say in global economic decisions and will assume a larger role in rebuilding the economy.
The G-20 agreed to shift some voting power at the International Monetary Fund (IMF) from rich countries to underrepresented ones such as China in a sign that the developed world has accepted the changing balance of economic power.
Chinese President Hu Jintao welcomed the group's decision to take on the role as the world's top economic forum and said world leaders must "make full use of the G-20 platform" to tackle the world's toughest economic challenges.
The G-20 will now supersede the Group of Eight (G8), which was formed in 1975 and includes the United States, France, Italy, Canada, Japan, Germany, Britain, and Russia.
Obama said the leaders had agreed to a framework that would allow all the members to "assess the other's policies, to build consensus on reform, and to ensure that global demand supports growth for all."
Talking Tough
In their final communique issued late on September 25, the G-20 vowed not to return to the "reckless behavior" blamed for triggering the financial crisis, which exploded two years ago when failing U.S. mortgage loans caused catastrophic losses at financial firms around the world.
"We agreed to take concrete steps to move forward with tough new financial regulations so that crisis like this can never happen again," Obama said. "Never again should we let the schemes of a reckless few put the world's financial system and our people's well being at risk. Those who abuse the system must be held accountable. Those who act irresponsibly must now count on taxpayer dollars. Those days are over."
In addition to the regulatory reforms, which are supposed to be in place by 2012, the G-20 took aim at lavish pay packages for bankers.
The leaders agreed that firms should be able to retract or reclaim pay and bonuses in some circumstance where performance does not merit reward.
The measures are aimed at making sure bankers don't get huge payouts for making risky bets that later go bad, Obama said.
"In short our financial system will be far different and more secure than the one that failed so dramatically last year," the U.S. president said.
On international trade, the agreement includes a plan to ask the World Bank to create a multilateral trust fund aimed at increasing the agricultural investment in poor countries.
"Over 4 billion people remain under-educated, ill-equipped with capital and technology and insufficiently integrated into the global economy," the joint statement reads. "We need to work together to make the policy and institutional changes needed to accelerate the convergence of living standards and productivity in developing and emerging economies to the levels of the advanced economies."
Not All Hunky-Dory
The summit was partly overshadowed by Iran's admission that it had a second nuclear facility, with Obama joining British Prime Minister Gordon Brown and French President Nicolas Sarkozy all condemning Tehran and insisting it come clean on its nuclear activities.
The group endorsed a plan to phase out fossil-fuel subsidies as a way to combat global warming, but environmental advocates will likely be disappointed by the group's unwillingness to set a firm deadline for that to happen.
The group's European contingent was also disappointed by the failure of the G-20 to agree on how to pay for efforts to fight climate change. With a major climate-change summit in Copenhagen a little more than two months away, time is running out, said European Commission President Jose Manuel Barroso.
In contrast to the September 24 protests, some of which involved police dropping tear-gas canisters and firing rubber bullets, on September 25 about 10,000 peaceful protesters marched in an area of the city well away from the convention center where leaders were meeting.
But a
post-summit demonstration
accusing authorities of excessive brutality was dispersed by police hours after the summit concluded.
with additional agency material