ALMATY (Reuters) -- Uzbekistan said today it had closed the border with Central Asian neighbor Kazakhstan as part of a seasonal antiflu quarantine.
On November 23, Kazakhstan said Uzbekistan shut the border without any explanations and Kazakh media, as well as residents of the Uzbek capital Tashkent, linked the move to fears about an outbreak of the H1N1 flu virus.
Today, the Uzbek government said in a statement carried by official media that it had enacted quarantine restrictions on the border "due to the spread of seasonal flu."
The World Health Organization (WHO) reported on November 20 that Kazakhstan, Uzbekistan, and parts of Afghanistan were reporting higher numbers of flu cases.
However, Uzbekistan says it has not registered any cases of H1N1 flu. Kazakhstan has reported 17 cases of the disease.
Swine Flu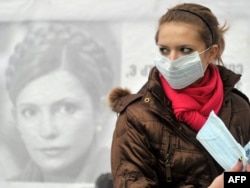 H1N1 Virus
As the fall flu season hits, fears of a swine-flu pandemic have grown in Eastern Europe after Ukraine saw a massive outbreak.
Click here
for RFE/RL's coverage of the virus's spread.