Uzbekistan's Prime Minister has sent a letter to his Tajik counterpart warning Dushanbe of potential damage by the Roghun power plant to Central Asia's "frail environmental balance."
In the letter published in Uzbekistan's Russian-language "Pravda Vostoka" newspaper today, Shavkat Mirziyaev said that in a region facing water shortages and prone to earthquakes, the giant power plant project could bring catastrophic consequences.
The letter is the highest-level public warning yet from Uzbekistan over the project. It comes as Tajikistan is set to complete the first two units of the hydroelectric plant, which Dushanbe hopes will solve its crippling energy crisis.
Mirziyaev called on Dushanbe to conduct a thorough review of the Soviet-era project, designed "some 40 years ago" based on "outdated" technical expertise.
The Uzbek prime minister said Central Asia is already facing environmental problems in the aftermath of what he called the Aral Sea "catastrophe." The inland sea has shrunk considerably over the past four decades after the Amudarya and other rivers that fed the sea were diverted by Soviet-era irrigation projects.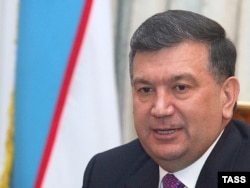 Uzbek Prime Minister Shavkat Mirziyaev
Mirziyaev said Tajikistan has to examine the possible impact of the Roghun plant on Amudarya water volumes, "as the very survival of millions of people" depends on it. He also pointed out that the Roghun power plant is located in an area with a track record of "several major earthquakes of up to magnitude 10.0."
He compared threats posed by Soviet-era hydropower plants in Tajikistan and Kyrgyzstan to the
2009 accident
in Russia's Sayano-Shushenskaya power plant, which killed 75 people and caused vast environmental damage to its surroundings.
The Uzbek prime minister threatened to take the matter further to the international community and environmental organizations if Tajikistan ignores the warning.
Political Issue for Uzbekistan?
Officials in Dushanbe have yet to respond to the Uzbek prime minister's letter.
However, Yarash Pulovod, the head of Tajikistan's Water and Irrigation Institute, said Tajikistan had already conducted a painstaking scientific study of the situation around the Roghun project, "taking into consideration environmental, seismology, water and other issues."
"For Uzbekistan, it is a political issue," he said.
Sobit Nematulloev, a prominent Tajik seismologist, dismissed Tashkent's warning as "baseless."
"We have been studying the issue for years. Experts have investigated and approved it," Nematulloev said. "They have only concluded that the situation has to be monitored all the time. [Uzbekistan's] allegation about earthquake track records is a lie.
"There was a 6.0 magnitude earthquake in Hoit district once. We can't stop building the plant because there was one 6.0 earthquake in the area."
One of the first stockholders in the Roghun hydropower station holds up his stock certificate.
Uzbekistan has long been opposed to Tajikistan and Kyrgyzstan's major power plant projects, fearing they would leave Uzbekistan facing water shortages and ecological threats.
Long-Standing Feud
Tashkent has in the past complained to the UN and other international bodies as well as Russia over its neighbors' hydropower plants ambitions and their possible impact on Uzbekistan. Amid Uzbek pressure, Russian President Dmitry Medvedev announced during his trip to Tashkent last year that Russia – then Roghun's major investor -- would not participate in energy projects in Central Asia unless the concerns of all states in the region were considered.
Medvedev's announcement caused angry reactions in Dushanbe, with Foreign Minister Hamrohkhon Zarifi swiftly announcing that Tajikistan would go ahead with its projects despite objections by other countries.
Uzbekistan, a key gas producer, has in the past repeatedly cut off winter gas supplies to Kyrgyzstan, Tajikistan, and southern Kazakhstan, often without prior notice. The country left a regional power grid in December, further deepening energy shortages in Tajikistan and Kyrgyzstan.
During winter, Tajikistan depends on imports of 1.2 billion kilowatts of electricity from Turkmenistan delivered through Uzbek territory. Tashkent's withdrawal from the regional grid has cut off Tajikistan from its vital energy supplier.
To put an end to its long-standing energy crisis, the Tajik government decided to complete at least two units of the Roghun power plant with domestic funds. President Emomali Rahmon has called on ordinary Tajiks as well as businesses to buy Roghun shares to raise part of the $1.4 billion authorities say is needed to complete those units. Capable of generating 3.6 billion kilowatts of electricity a year, Roghun would be the most powerful hydropower plant in Central Asia, and at 335 meters, the world's highest dam.
Tajikistan hopes it will also help fulfill the country's dream of becoming a major energy exporter.

RFE/RL's Tajik Service contributed to this report