It's enough to send a chill, figuratively and literally, down the spines of energy consumers: the creation of a cartel of natural-gas producers. It would be an organization akin to the Organization of the Petroleum Exporting Countries (OPEC), the body so many blame when the price of gasoline starts to rise.
"A gas cartel, should it see the light, would mean that producer countries would augment their power even more and that they could have a stronger say on gas prices," says Federico Bordonaro, a senior analyst with equilibri.net, an Italian-based analytical group specializing in risk assessment.
"This is basically the big fear of consumer countries."
Creating a gas cartel is an idea that Venezuelan President Hugo Chavez has been promoting in recent days on official visits to North Africa (Libya and Algeria), the Middle East (Syria), the Caspian region (Iran and Turkmenistan), and now to Russia.
Chavez has so far had mixed success in gaining support for his "gas cartel" idea during his 13-day, eight-country tour. But when he arrives in Russia on September 10 he will be meeting officials who have been considering just such a cartel for some time.
Last year, Russia, Algeria, Bolivia, Egypt, Iran, Qatar, Libya, Trinidad and Tobago, Equatorial New Guinea, Venezuela, and Nigeria signed an agreement to form a "gas-exporting countries forum," but nothing ever came of it.
Later that same year, officials from Russia, Iran, and Qatar, which together control some 60 percent of total global reserves, met in Tehran to discuss a gas cartel. Nothing came of that, either.

Gas Is Not Oil
Now Chavez is trying to gather support for another attempt at forming a gas exporters' alliance. The model for such a cartel is OPEC, but there are fundamental differences between selling oil and selling natural gas.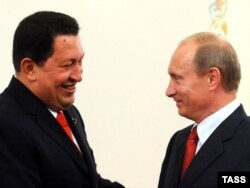 Russian Prime Minister Vladimir Putin (right) and Chavez
"The main issue is that as a commodity, natural gas is not traded like oil is, because of a physical reason. And the physical reason is that most natural gas travels through pipelines. It is just a comparatively little part of this that is transported as liquefied natural gas," Bordonaro says.
"So it is very difficult to have a gas market that resembles an oil market," he notes. "And because of this, because it is difficult to resell it to other actors, natural gas is very much linked to pipelines. And therefore it is not easy to imagine a natural gas market that resembles an oil market."
As energy expert Charles Esser put it during the Russia-Qatar-Iran meeting last October, most of the gas market is a "stranded" market -- meaning countries that are connected by pipelines linking producers to consumers.
Oil tankers can be rerouted to other ports if there are contract or pricing problems, but pipelines can only be pumping gas and making money for producers, or shut down and leaving producers without a source of revenue.
This point is all the more valid since some countries are connected to their major consumers by pipelines. Russia's best gas customer is the European Union and there is a network of gas pipelines connecting Russia to the EU.
Turkmenistan has been selling the bulk of its gas via a pipeline to Russia. That pipeline has not been functioning since April due to an explosion that the Turkmen government blames on Russia. But another major pipeline from Turkmenistan to China is due to start operating at the end of this year.

Tied Together By Pipelines
Venezuela and Iran are currently some of the biggest supporters of a gas cartel, but there is a big difference between them and other potential cartel members.
"For the moment, Venezuela and Iran are not connected abroad through their natural-gas pipeline network, and therefore they are living in a very different context than Russia," Bordonaro says.
Bordonaro adds that this dependence on gas pipelines offers producers a guarantee of revenue and consumers a guarantee of supply.
"In a natural gas market, if you don't have a clear contract before you lay a pipeline, you risk that you spend an enormous amount of money in laying the pipeline and then the pipeline will be empty," Bordonaro says.
"And this is a risk that they [gas producers like Russia and Turkmenistan] don't want to run into, and therefore it's unlikely that a gas cartel could take shape in these conditions."
That explains why Chavez's proposal for a gas OPEC was not well received in Turkmenistan, the country with the world's fourth-largest gas reserves and great plans to participate in major pipeline projects of the future.
Likewise, it may not elicit much interest in Russia, where the dependence on pipelines is even greater than in Turkmenistan.