Freelance journalist Thomas Crampton has spent the last five days covering the World Economic Forum in Davos, Switzerland, a gathering of government and business leaders from around the world.
Crampton, formerly a correspondent for "The New York Times" and "International Herald Tribune," tells RFE/RL correspondent Ron Synovitz that this year's gathering, unlike previous ones, left him with feelings of "extreme depression."
He says that's because of wariness among Davos delegates about the global financial system as well as the failure of political leaders to move forward on critical issues like the conflict in the Middle East.
RFE/RL: What words comes to mind when you think about the discussions and events at the 2009 World Economic Forum in Davos, Switzerland?

Thomas Crampton:
The words or sentiments that I would include are pessimism, fear, anger -- not panic, but extreme wariness.
This is the sixth time I've attended the World Economic Forum. This is the first time where there has been live activity on the stage -- with people walking off, shouting at people. We had [Russian Prime Minister] Vladimir Putin attacking [Dell CEO] Michael Dell [after he expressed the desire to expand Dell's market share in Russia], saying, "We don't need your help." We had [Recep Tayyip] Erdogan, the Turkish prime minister, walking off stage following what he felt was an unfair attack that he didn't have time to respond to from [Israeli President] Shimon Peres.
In the context of Davos, these are rather exciting events because generally, these panel discussions, which are very public, tend to be extremely calm and understated affairs. This time there was actual shouting -- which really tells you the underlying mood in politics, economics and the troubles ahead.
RFE/RL: What general conclusions did you come away with in regard to the economic issues discussed at Davos amid the current global financial crisis?

Crampton:
Economics -- the issue there is a real sense that we are just at the beginning of this [global financial meltdown.] You won't get optimism out of the crowd in Davos. They are intimately involved in what is going ahead. But they really feel like there will be further biting into the real economies going ahead.
RFE/RL: Many of the delegates at Davos have been outspoken supporters of globalization in the past. Did you see any tempering of optimism about capitalism and globalization this year?"

Crampton:
In a lot of senses, Davos encapsulates the elite that brought the world into this crisis. It is this nexus of political and financial leaders who gather every year up in the mountains of Switzerland. There really are a lot of concerns spoken by them.
Are there doubts about the future of capitalism? No. Is there an extreme level of concern about regulation looking ahead, or about the remedy to the crisis going too far or having adverse impact? Yes, absolutely.
RFE/RL: One of the interesting interviews that you posted to your video blog page from Davos was with the billionaire financier George Soros. Could you explain what you learned from that interview?

Crampton:
I managed to meet up with George Soros and he spent an awful lot of time explaining how his theory of reflexivity and his theories about financial markets led him to believe that the world was heading to this very, very difficult zone. He felt it long before the actual crisis hit. And he kept hammering about "my theory, my theory, my theory."
So my question to him was, "Look, if your theory is so great, did you make any money?" This is, after all, the guy who broke the Bank of England. He has a tremendous reputation as a speculator who has been successful in the past.
And, indeed, he said, "Yes. I did do well by the crisis." And when I pressed him further about how well he did, he said, "I made a fair return." I found this interesting -- seeing that he was following through with actions on his theory and how that he had come to that decision.
What was striking about it, looking ahead, was [Soros's] pessimism of where we were and how we were going forward. He said that we cannot keep using these standard remedies to try to get out of this financial crisis. And he spoke about using what, in the West, would be considered radical moves to the financial system that are employed in China -- by banks reducing their reserve ratios and things that regulators do not normally dare do. Soros's point was: "Look, this is not a normal time. We are going to need to do these radical moves."
RFE/RL: After attending the events at Davos, what do you come away with about the road ahead?

Crampton:
If I could stick on one theme that just brought me extreme depression and sadness, it was the Middle East. There was this confrontation on stage between the Turkish Prime Minister Erdogan and Shimon Peres [over Israeli military action in Gaza]. I had an interview with Shimon Peres after that. The situation just seems so intractable.
These politicians, sure they are up on stage and it's all an act in some ways, but the underlying reality is that there seems to be no way forward [on the Middle East crisis]. And if that's the case after this horrific recent fighting in Gaza, it is really a sad and depressing moment for the Middle East.
Perhaps in some way this blowing up on stage could be cathartic. But I fear not. It just really seems so intractable. And finding a solution there just seems as far away as ever. That's one emotion I came out with. In terms of the Middle East, just very depressed."
RFE/RL: What was the overall mood about economic issues at Davos, and what potential pitfalls were discussed that the world has not yet experienced?

Crampton:
On the economic front, very wary. Speaking to everybody about the economy, everybody fears where it is going. How low can it go? There is no sense that we've now hit the bottom. There was a sense that we are still heading down.
In terms of the impact of what is going on, one of the more worrying aspects is related to developing nations -- the developing nations which have made incredible progress in reducing the level of poverty and incredible progress in terms of raising people into [higher living standards] and levels of health care. They are now going to be facing incredible difficulty with refinancing their debts.
It's not just the cost of borrowing for companies that is going up. When countries start refinancing bonds, they are going to face these same difficult financial markets. So that's a further impact that we haven't begun to see yet that is going to be trickling through the economic system.
Thomas Crampton's video and text blogs about the Davos 2009 forum are available at
thomascrampton.com
World Economic Crisis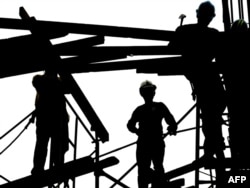 Multimedia coverage on the impact of the global financial crisis on markets and individuals across RFE/RL's broadcast region. More