It was one of the most dramatic moments seen at the normally staid World Economic Forum in Davos, Switzerland.
In a bitter reaction to Israeli President Shimon Peres's defense of Israel's military assault into Gaza, Turkish Prime Minister Recep Tayyip Erdogan stormed off the stage during a panel discussion on January 29.
Peres had asked what Erdogan would do if rockets were being fired at innocent civilians in Turkey. As he spoke, Peres raised his voice and pointed his finger at Erdogan.
"What would any country do? What would you do if you would have in Istanbul every night 10 rockets, or 100 rockets?" Peres asked.
In the strongest public criticism of Israel by a Turkish head of government in years, Erdogan responded: "President Peres, you are older than I am and you have a very strong voice. I feel that you perhaps feel guilty and that's why perhaps you are using such a strong voice. My voice won't be that high, to be sure.
"When it comes to killing, you [Israel] know well how to kill people," he continued. "I remember the children whom you [Israel] killed on beaches, and I remember two former prime ministers in your country who said to me that they felt very happy when they were able to enter Palestine in tanks."
Erdogan also criticized the audience of government and corporate leaders for applauding Peres's emotional defense of Israel's war against Hamas in Gaza -- a campaign that some accounts estimate left as many as 1,300 Palestinians dead, many of them women and children.
But before he could finish his remarks, Erdogan was interrupted by the moderator, "The Washington Post's" David Ignatius. The Turkish prime minister objected angrily to being cut off and threatened to boycott future Davos gatherings.
"For me, as of today, Davos is finished. I won't come back to Davos after this. You don't let me speak," Erdogan said. Peres "spoke for 25 minutes, and you allow me to speak for only 12 minutes. This is unacceptable."
Strains In Alliance
It's not the first time that Erdogan has criticized Israel over its Gaza offensive. Early in January, on Turkish television, Erdogan called Israel's air and ground assault on Gaza "unacceptable," saying, "Allah will sooner or later punish those who transgress the rights of innocents."
Erdogan has also expressed similar sentiments in Egypt, Jordan, Saudi Arabia, and Syria while trying to help broker a cease-fire between Israel and Hamas.
In fact, Erdogan has not only expressed his displeasure about Israel with words. He pointedly avoided visiting Israel as part of his Middle East diplomatic trip. And he has called off Ankara's sponsorship of talks between Israel and Syria.
Since 1996, when the two countries concluded a military pact, Turkey has been one of the few allies of Israel in the region. Their formal ties include joint training exercises, overflight privileges for the Israeli air force, and Israeli arms sales to the Turkish military.
According to the most recently published figures, the value of Israeli arms sales to Turkey during 2007 was about $2 billion. Still, Erdogan, who became prime minister in 2003 with support from pro-Palestinian sympathizers in his Justice and Development (AK) party, has often been seen to view the Israeli-Palestinian issue differently than Turkey's secular General Staff.
Some interpret Erdogan's behavior at Davos as public theater ahead of local elections in March -- a bid to shore up support from Turkish voters who are sympathetic to Palestinians.
Lale Saribrahimoglu, a political and defense analyst for the Turkish newspaper "Today's Zaman," notes that Erdogan has been under strong domestic political pressure to scale back ties with Israel since the start of the Gaza campaign.
"Street demonstrations are huge and quite widespread in the country, urging decision makers to cancel defense procurement agreements with Israel -- the last of which was signed two days before the Israeli air strikes [on Gaza began]," Saribrahimoglu says.
Turkey's New Approach
Others note that Erdogan's outburst may reflect increasing frustration over other issues -- like the refusal of the European Union to issue an invitation for Turkey to become an EU member, or the International Monetary Fund's rejection earlier on January 29 of Erdogan's attempts to obtain fresh loans to help with Turkey's economic crisis.
But others wonder if Erdogan's rhetoric is part of a calculated effort to redefine Turkey's relationship with Israel while, at the same time, trying to assert a more dominant regional role as a mediator in disputes with the Arab world.
Since the Israeli offensive in Gaza began, Erdogan has talked by phone to Hamas's political leader in Gaza, Ismail Haniyah. He also has been in touch with Iranian President Mahmud Ahmadinejad -- as well as with his contacts with Israel and the West -- to try to broker a Gaza cease-fire.
Those moves are part of a policy that has become a hallmark of Erdogan's government in recent years -- for Ankara to take a greatly heightened regional profile after decades of seeing its interests almost exclusively in Europe.
Because this foreign policy gives new attention to neighboring Arab states whose land was once part of the Ottoman Empire, some political commentators in Turkey speak of it as "neo-Ottomanism." That foreign-policy course also has included stepped-up diplomatic initiatives toward Greece and in the Caucasus.
Earlier on January 29, when Erdogan was taking part in a panel titled "The Great Game Revisited," the panel moderator praised moves by Turkey at earlier Davos forums to improve relations with Greece.
Aliyev Following Erdogan's Lead?
Erdogan responded by expressing willingness to be a mediator and try to establish formal diplomatic ties between Armenia and Azerbaijan -- ties that have not existed since the conflict between the two countries over the territory of Nagorno-Karabakh in the early 1990s.
In fact, the World Economic Forum's organizers had tried to bring Armenian President Serzh Sarkisian and Azerbaijan's President Ilham Aliyev out on the same stage for the panel discussion. But Armenia sent Foreign Minister Eduard Nalbandian in Sarkisian's place.
And when Aliyev was asked optimistically if Davos 2009 might be the first step toward establishing formal diplomatic ties between Baku and Yerevan, Azerbaijan's president rejected the suggestion.
Aliyev said his country does not have relations with Armenia because of the "continued occupation of our territory by Armenian armed forces," though negotiations continue.
"But unfortunately, as Prime Minister Erdogan said, for the last 17 years these negotiations did not lead to a resolution of the conflict. It did not lead to a peace agreement and it did not lead to the liberation of Azerbaijani territory -- the internationally recognized territory of Azerbaijan," Aliyev said.
"Under these circumstances, of course, we cannot talk about any kind of cooperation -- whether it is energy or transportation. And [as long as] our lands are under occupation, this cooperation is not possible."
Taken together, the January 29 events at Davos demonstrate more than just the failure of the forum to bring together uneasy adversaries. The angry exchange between Peres and Erdogan shows that public debate between government leaders at Davos also can damage bilateral relations between two countries considered allies.
And Aliyev's outburst suggests his country is ready to adopt the tone set by its regional mentor, Ankara.
RFE/RL correspondent Charles Recknagel contributed to this story
Anger At Israel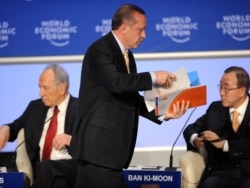 Anger At Israel
Turkish Prime Minister Recep Tayyip Erdogan stormed out of a debate with Israeli President Shimon Peres at the World Economic Forum in Davos, Switzerland. He was later welcomed by cheering supporters when he returned home to Istanbul. Video By Reuters. Play