MUNICH -- Offering a first glimpse of the foreign-policy agenda of the new U.S. administration, Vice President Joe Biden told the Munich Security Conference that Washington intends to continue to exercise leadership in the world.
He said President Barack Obama wants to "set a new tone" in U.S. relations with other countries in the world, but resolutely ruled out the possibility that the United States might surrender its global leadership ambitions.
Biden said Washington will seek closer cooperation with its allies across the globe, having concluded that this advances collective security, as well as its own values and economic interests. But he made clear the United States intends to hang on to its unique, unshared global dominance.
"So, we'll engage, we'll listen, we'll consult," Biden said. "America needs the world just as -- we believe -- the world needs America."
For those allies who want their views taken into account, the United States is now holding out a new "bargain," Biden said -- they must help actively to enforce the global "rules" that they, together with the United States, are committed to upholding.
Not 'Other Powers,' But 'Other Forces'
Speaking a half-hour before Biden, French President Nicolas Sarkozy had told the same audience of top politicians and foreign-policy experts that no country could manage the world's problems single-handedly and that global power has decentralized:
"Some believed that [after the end of the Cold War] we had entered a unipolar world," Sarkozy said. "But -- we are in a world where power is relative. This is the first principle from which all of our strategy must proceed."
Echoing Sarkozy's words that no country alone can resolve the world's problems, Biden pointedly and deliberately contradicted the French president's conclusions.
Where Sarkozy had spoken of "other great powers" emerging whose cooperation must be secured to safeguard peace in the world, Biden said the "other forces" acting as constraints on U.S. power are the proliferation of weapons of mass destruction, the spread of epidemics, the growing gap between the rich and poor, climate change, shortages of energy supplies, and fundamentalist radicalism.
Biden's views found a more congenial counterpart in the vision of German Chancellor Angela Merkel, who spoke of the need for a "networked" global security conception, seeking to better combine military, political, and economic resources in resolving crises.
While Sarkozy appeared keen to redistribute global power and contemplate new security structures, among them Russian President Dmitry Medvedev's proposals for a new global "security architecture," Merkel called for improvements in the functioning of existing institutions, among them the Organization for Security and Cooperation in Europe.
Biden offered Sarkozy, Merkel, and the rest of his audience an unapologetic defense of what will remain a U.S. pursuit of global dominance, promising, however, changes in the way the country exercises its power.
U.S. 'Bargain' With Allies
He said the Obama administration's grounding "principle" is that there is "no conflict" between ideals and values and the use of force. Accordingly, the United States will continue to use force "when all else fails," although always "with a decent respect to the opinion of mankind," he said, quoting Thomas Jefferson.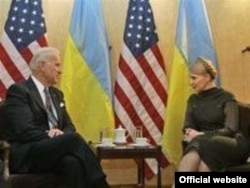 Biden met with Ukrainian Prime Minister Yulia Tymoshenko, among others, on the sideleines of the conference.
Biden said the United States has a "responsibility" to meet global threats, but that the country will in future lead "by example."
In doing so, Washington will return to diplomacy in a bid to "recapture the totality of American power." But consultation and taking account of allies' views, Biden warned, will entail a price: "America will do more -- that's the good news. The bad news is America will ask for more from our partners as well."
Biden said U.S. allies in Europe must assume some of the responsibility for the struggle against terrorism and help resettle some of the inmates of the U.S. prison camp in Guantanamo Bay, Cuba.
The United States is also asking for a more robust European contribution in the Middle East and Afghanistan. The EU is expected to help fund the Palestinian Authority and humanitarian efforts in the Palestinian territories, while in Afghanistan Washington is asking for more combat troops.
In another uncompromising move, Biden said the United States intends to resume global leadership in the fight against climate change -- traditionally one of the EU's strong suits.
Cooperation, But Only So Far
Biden also promised to "work with Russia," but, rebuffing calls from Sarkozy and Merkel to make greater allowances for Moscow's growing power, he drew a number of lines in the sand.
"We will not agree with Russia on everything. For example, the United States will not, will not recognize Abkhazia and South Ossetia as independent states," Biden said.
"We will not recognize any nation having a sphere of influence," he added. "It will remain our view that sovereign states will have the right to make their own decisions and choose their own alliances."
The U.S. vice president said NATO and Russia can and must, however, cooperate on nuclear disarmament.
Biden also held to a tougher line than expected on missile defense, saying Washington will "continue to develop" missile-defense plans against an Iranian threat provided the technology is proven to be functional and is cost-effective. He said both NATO allies and Russia would be consulted in the process.
Iran, he said, must "forgo" nuclear weapons. Should Tehran stick to its present, uncompromising course, the United States will seek to increase pressure on the country and isolate it further. But, Biden said, it is also ready to offer "meaningful incentives" to reward moves to close down Iran's nuclear program.
He said the Obama administration is conducting a strategic review of its policy in Afghanistan and Pakistan, and is "genuinely" seeking allies' ideas and input to bring together military and civilian resources.
In a reference to the new administration's determination to seek a new beginning in its relations with the Muslim world, Biden said the United States "will extend a hand to those who unclench" theirs. He said Obama does not believe a "clash of civilizations is inevitable."