European air traffic remained seriously disrupted today because of a huge cloud of ash and other particulates sent up by an Icelandic volcano.
Airspace from Britain to the Baltic states and as far south as Romania has been fully or partially closed, and tens of thousands of flights have been canceled in the worst air travel chaos since the September 11, 2001 attacks in the United States.
Ukraine and Belarus became the latest countries today to ground flights as volcanic fallout continued to drift across Europe.
Millions of passengers have been stranded since the Eyjafjallajoekull volcano erupted on April 14.
Slide show mapping the fallout's predicted course.
More than 10 European countries have enforced no-fly rulings and a dozen more, including France, Germany, and Italy, have partly closed their airspace because of the fallout -- a mixture of glass, sand, and rock particles capable of disabling jet engines.
About two-thirds of the 28,000 daily flights in the affected zone were canceled on April 16. The disruptions also severely affected Europe-bound flights from North America and Asia.
The International Air Transport Association said the ash cloud was costing airlines a combined $200 million a day.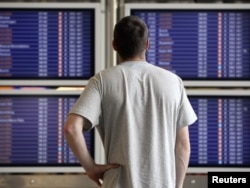 A would-be passenger at Frankfurt airport on April 16
"I flew from Tokyo two nights ago. We were redirected to Lyon, then I had to take a bus for seven hours to here, then I waited for about six hours in Charles de Gaulle," one traveler stranded in Paris told Reuters, adding that he was bracing for another four days at the airport. "I stayed in a hotel. [But] now I have to wait until Tuesday and there are no hotels."
The travel chaos has extended to countries as far as India, where people traveling to or through Europe are facing huge delays.
At Mumbai's Chhatrapati Shivaji airport, hundreds of frustrated travelers have been sleeping on makeshift beds as they wait for their flights to be restored.
Some blame authorities and travel agencies for what they say is a lack of information.
"I came over here and I searched, then I found out that my flight was canceled," said one traveler. "I came here all the way from Vasai, I spent almost 1,500 [rupees, or $33] for the taxi. They should have informed us that the flight was canceled and told us not to come, because I already have the confirmed tickets."
Although the cloud is expected to largely disperse over the next few days, volcanologists say the ash could continue to disrupt air traffic for up to six months if the eruption continues in Iceland.
In addition to travel problems, health officials said the volcanic ash could also prove harmful to those with breathing difficulties once it begins to fall to the ground.
compiled from agency reports