Votes Cast On Final Day Of European Parliament Polls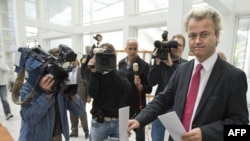 BRUSSELS (Reuters) - EU states began the final day of voting in a European Parliament election on June 7, a poll that is expected to embarrass national governments struggling to combat the effects of the global economic crisis.

Voting took place in 19 countries on the fourth and final day of the election, in which the other eight EU member states have already finished voting.

Although centrist parties are expected to remain the dominant forces in the 736-member assembly, which shapes many EU laws and authorizes the EU budget, some far-right parties could make gains if the turnout is particularly low.

The European Parliament will start releasing results at 2000 GMT after the last ballot station closes.

Exit polls from voting in the Netherlands worried EU leaders by showing gains for a far-right party.

"It doesn't look like the elections are a going to be a triumph or a grand moment for European democracy," said Thomas Klau of the European Council on Foreign Relations.

"National governments have set the perception that Europe is pretty useless by not being able to deliver a sufficiently strong and compelling and united message in the midst of the biggest economic crisis since the 1930s."

Opinion polls before the election began suggested less than half of the electorate of 375 million would vote.

Many voters are worried by rising unemployment and say the EU has done too little, too late, to tackle the economic crisis, although it eventually agreed a fiscal stimulus plan which poured in money to try to revive the economy.

Others say the EU is too distant and has little impact on their daily lives. Some simply do not understand a system in which the parliament shares power with the executive European Commission and a Council of EU heads of state and government.

Many voters were expected to vote on domestic issues, which is bad news for several national governments.

Britain's Labour Party, mired in a scandal over parliamentarians' perks, looks set for a drubbing.

Voters also are likely to punish Ireland's Fianna Fail for failing to protect the once thriving economy, and it could lose one European Parliament seat to the Libertas party, which opposes the EU's Lisbon reform treaty.

Other countries where governing parties could suffer setbacks include Spain, Greece, Hungary, and the Czech Republic.

Voting took place on June 7 in Austria, Belgium, Bulgaria, Denmark, Estonia, Finland, France, Germany, Greece, Hungary, Italy, Lithuania, Luxembourg, Poland, Portugal, Romania, Slovenia, Spain, and Sweden.

Germany's voting will test the waters before a national election in September. French President Nicolas Sarkozy would use a good performance by his ruling UMP party to show that the French people back his policies.

For Italian Prime Minister Silvio Berlusconi, the risk is that a series of scandals, such as his relationship with an 18-year-old, will hurt his center-right party's standing.

In Latvia, municipal elections were held alongside the European election and the voting is a test for the five parties in the ruling coalition presiding over a currency crisis.

Dutch voters sent a worrying signal to EU leaders by pushing anti-immigrant leader Geert Wilders' Freedom Party into second place with four of the 25 seats, only one fewer than the main party in the center-right coalition government.

EU leaders are also worried by the stance of Britain's Conservatives, who lead opinion polls before a parliamentary election that is due next year but could be held earlier if Prime Minister Gordon Brown cannot hold on to power.

The Conservatives want a referendum in Britain on the Lisbon treaty, which would streamline EU decision-making.

The parliament's tasks will include tightening regulation of the financial system to help prevent another global economic crisis. It will also have the final say in the make-up of the next European Commission, an important regulatory body.

If the Lisbon treaty comes into force, parliament's approval will also be required for the new posts of EU president and EU foreign policy chief.