Iranians have begun voting amid signs of a high turnout in the 10th presidential election since the establishment nearly three decades ago of a clerically dominated constitution, RFE/RL's Radio Farda reports.
Four candidates are competing after a hard-fought campaign that saw unprecedented public debates, massive rallies, and conspicuous displays of partisanship in the streets.
Officials have said a high turnout is expected from among Iran's 46 million eligible voters.
Conservative incumbent President Mahmud Ahmadinejad is expected to face a strong challenge from moderate reformer Mir Hossein Musavi, who served as prime minister during the formative years of the Iran-Iraq War in 1980-88.
The two other candidates are reformist Mehdi Karrubi, who is the only cleric in the race, and Mohsen Rezai, who commanded the hard-line Islamic Revolutionary Guards Corps throughout much of the 1980s and 1990s.
State television showed live footage of people lining up at a Tehran polling station after voting began in the early morning.
Iranian media carried images of Supreme Leader Ayatollah Ali Khamenei, who is the country's most senior political and religious authority under its Islamic constitution, casting his ballot. Khamenei has implicitly endorsed Ahmadinejad's candidacy.
Men and women line up separately at a Tehran mosque serving as a polling station.
"I sincerely thank the people of Iran for all their goodness, for their greatness, for their selflessness, their sacrifices, and for their forgiveness," Ahmadinejad, a former Tehran mayor whose surprise election in 2005 required a second round for the first time in Iranian presidential-election history, said after voting in Tehran. "I am certain that the participation of people -- God willing -- will open doors for bigger things, more important decisions, and clear movements."
"God willing, with the nationwide participation of the public, we will see better and more beautiful days," Musavi said after voting at a polling station in the capital.
Millions of Iranians abroad are also watching the elections closely, with some of them casting absentee ballots at embassies around the world.
Radio Farda and independent Iranian news agencies report that text-messaging services, which are particularly popular among the country's youth, have been blocked across the country since the early morning hours on election day. It was unclear why authorities or telecommunications providers might be interfering to prevent people from sending or receiving messages on mobile phones.
The campaign was marked by first-ever television debates and much mudslinging among the candidates.
The economy, hit by inflation and unemployment, has been a primary campaign issue.
Preliminary results are expected early on June 13.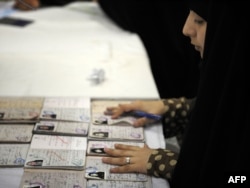 Checking ID cards at a polling place in the capital.
If none of the four candidates wins an outright majority in the first round, the two leading candidates will advance to a runoff vote on June 19.
More than 470 people who registered to run for president had their candidacies rejected by the Guardians Council, which regularly vets aspirants for elected office in Iran.
The election outcome could set the tone for Iran's relations with the West, which is concerned about Tehran's nuclear ambitions.
with reporting by Radio Farda, RFE/RL correspondent Golnaz Esfandiari, and Reuters; with contributions by Mazyar Mokfi