The World Health Organization (WHO) has upgraded its pandemic alert level for a new strain of the swine flu from Phase 4 to Phase 5 on its six-phase scale.
The declaration of Phase 5 means that the new flu virus has crossed borders by passing from one infected person to another, and has then continued to spread to more people.
WHO Director-General Margaret Chan said the move is a strong signal that a pandemic is imminent and that there is little time for governments to finalize the organization and implementation of their plans to help people infected with the disease.
"Based on assessment of all available information, and following several expert consultations, I have decided to raise the current level of influenza pandemic alert from Phase 4 to Phase 5," Chan said.
"Influenza epidemics must be taken seriously precisely because of their capacity to spread rapidly to every country in the world."
Mexico, U.S. Close Schools
In Mexico, the epicenter of the swine-flu outbreak, Health Minister Jose Angel Cordova announced extraordinary steps to try to prevent infected people from transmitting the disease to others, including the "suspension" of the federal administration during the May 1-5 holiday.
All schools have been closed in Mexico until May 6, public events are being cancelled, and masks are being handed out in an attempt to slow the spread of the disease.
Mexico's government says it now suspects 168 people have died from the new flu strain and some 3,000 people have been infected. Eight of those deaths have been confirmed by the WHO, and health authorities are awaiting test results that could confirm the presence of the disease in the other cases.
Mexico's President Felipe Calderon also has urged workers to stay at home through the May 1 holiday weekend, "because there is no safer place to avoid contagion of swine flu than in your own home."
Meanwhile, the U.S. Centers for Disease Control and Prevention has confirmed that swine flu has spread to 11 states.
In the state of Texas, where the death of a 23-month-old infant has been linked to the disease, a disaster has been declared and schools have been closed for 130,000 children. The state also has suspended all school sports competitions until May 11.
Some schools also have been closed in the states of Illinois, New York City, California, South Carolina, Connecticut, Minnesota, Wisconsin, Arizona, and Ohio.
The WHO has praised such moves, saying that steps to prevent large gatherings of people are sound public health policies in areas where the virus has been confirmed.
"It's clear that the virus is spreading and we don't see any evidence of it slowing down at this point," acting WHO Assistant Director-General Keiji Fukuda said.
"All of the information that we have, both from the formal analyses which are being done but also the reports of the investigators on the ground -- what they feel like they are seeing suggests and indicates that we are seeing person-to-person transmission and this is continuing in a number of places."
Meanwhile, European Union health ministers are meeting for emergency talks in Luxembourg aimed at coordinating efforts to prevent and treat the disease in Europe.
Just before those talks started, Spain's government announced Europe's first case of swine-flu infection in a person who has not visited Mexico. The case confirms that the disease is continuing to be passed from person to person and on to more people.
International Reactions
Despite the insistence of health officials that the new flu strain is passed from person to person -- not from eating pork -- many governments have been implementing bans on pork imports. Among them are Russia, Ukraine, Kazakhstan, and Armenia.
In Armenia, where no cases of the virus have been identified so far, other precautions also are being taken. Grigor Baghian, chief of the Armenian Agriculture Ministry's Food Safety Inspectorate, told RFE/RL that sanitary workers also are disinfecting all vehicles entering the country.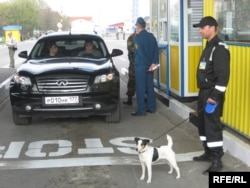 Many countries have begun border inspections for swine-flu carriers.
Gayane Sahakian, an official in Armenia's Hygiene and Antiepidemic Inspectorate, said medics have been deployed since April 24 at Yerevan's Zvartnots International Airport and at Armenia's border crossings to screen all people arriving from affected countries.
Sahakian said Armenia has stockpiled enough effective antiviral drugs to help people in case the disease becomes widespread in Armenia.
Boqijon Matkarimov, deputy chief epidemiologist at Uzbekistan's Health Ministry, said that its measures include increased border controls, the alerting of medical personnel, preparation of stocks of antiviral medicines, and the preparation of public-health programs for television broadcasts.
Turkmenistan's Health Ministry says it has equipped all airports and railway stations with thermal scanners meant to detect infected persons. However, critics have questioned the effectiveness of that technology.
The ministry also says it has stockpiled enough of the antiviral drug Tamiflu to treat an infected population for one year. Some 10,000 public-health booklets on the disease also have been printed and distributed.
Moldova's government says it has enough antiviral drugs to treat the country's entire population in case the pandemic reaches there. Moldova also has set up a special "swine flu" commission, and is advising citizens to observe good-hygiene rules -- especially hand washing.
Iran's Health Ministry has urged travelers to avoid visiting the United States and Mexico. No cases of the potentially deadly virus have been identified in Iran. Mohammad Mehdi Gooya, who heads the department of disease control in the Health Ministry, said travelers who arrive from abroad will be tested and advised to go to special hospitals if the are found to be infected.
Greater Preparedness
WHO spokesman Gregory Hartl says earlier pandemic scares over SARS and the H5N1 bird-flu virus have helped governments around the world become better prepared for the current outbreak:
"We learn as we go. And I think SARS was a huge learning experience for all of us. SARS came and, at the time, it felt like the pandemic that almost happened -- even if it wasn't really that," Hartl says.
"And then immediately afterwards began H5N1 with the avian cases. With those two events, which basically both started in 2003 or 2004, there was a huge amount of work down in all sorts of different areas around preparedness and how best to stop, prevent, mitigate a pandemic," he adds.
Peter Cordingley, spokesman for WHO's Western Pacific region that includes Asia, says the previous scares have led the region to stockpile antiviral drugs that are effective against the new flu strain -- such as Tamiflu. But Cordingley says Asia's Tamiflu stockpile will not be enough in a "worst-case" scenario."
Meanwhile, some governments have taken precautions against pig farms that have been criticized as knee-jerk reactions that contribute to public misconceptions about the real dangers of the disease.
Egypt is a case in point. Authorities there have begun slaughtering the country's 300,000 pigs as a safety precaution -- even though eating pork has nothing to do with getting swine flu and the disease is being spread from human-to-human contact rather than from pig to person.
Scientists also say there is virtually impossible that the new strain of flu virus could be passed from infected people to birds -- or even from pigs to birds -- and then spread further.
"I don't know any transmission that way -- from pigs to birds. As far as we know, the birds only have bird viruses. They don't have viruses that seem to have components from other animals, either humans or pigs," says Hugh Pennington, a microbiologist and professor emeritus at Aberdeen University.
"What we do know is [a] virus can spread from people to pigs because pigs have a very similar kind of setup in their lungs to people in terms of the cells -- the receptors there that the virus needs," Pennington adds. "It's different with the birds. [So] we've never seen a virus go from humans to birds."
Still, Pennington concludes, it would be highly unusual for the new strain to pass from humans back to pigs.

contributors to this report include RFE/RL's Armenian, Uzbek, Turkmen, and Moldovan services