(RFE/RL) -- U.S. Secretary of State Hillary Clinton has signaled a significant shift in Washington in favor of the International Criminal Court (ICC), the world body that pursues war criminals but was opposed by the Bush administration.
The question of whether to join The Hague-based ICC has been a difficult one for Washington since the court's inception.
When the court, set up in 2002, was first conceived as an international tribunal for pursuing war criminals, Washington was in favor of it. U.S. President Bill Clinton gave his approval for joining before he left office in January 2001.
But before Congress could ratify U.S. membership in the court, the leadership in Washington changed. The administration of the next president, George W. Bush, strongly opposed the idea and the initiative in the legislature died.
The Bush administration's argument was closely tied to the U.S.-led war on terror.
Officials wanted to give U.S. soldiers and intelligence officers broad latitude to pursue terrorist groups. And they did not want the security forces' activities to be limited by threats to take them to court on charges of committing international war crimes -- a body of law that is still evolving.
Change In Attitude
But now Hillary Clinton has signaled that the administration of Barack Obama takes a more favorable view of the court.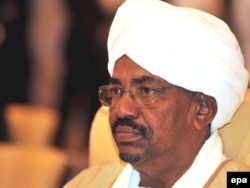 Clinton criticized African leaders who continue to support Sudan's Omar al-Bashir.
Speaking on August 6 at the University of Nairobi in Kenya, Clinton said U.S. non-membership was "a great regret but it is a fact that we are not yet a signatory" to the ICC. But she added that the Obama administration has "supported the work of the court and will continue to do so."
Clinton's remarks come as she tours Africa, a continent with several hot wars in progress. Earlier this week she criticized African leaders who continue to support Sudanese President Omar al-Bashir, whose arrest has been requested by the ICC in connection with alleged war crimes in Darfur.
In Nairobi, the U.S. secretary of state also said that she believes Washington could have found a way to resolve its concerns over joining the court. But she did not provide details of how the Bush administration's war on terror could have accommodated the court.
Some critics of Bush's policies have accused top U.S. officials of war crimes over Washington's invasion of Iraq and holding prisoners extrajudicially at Guantanamo Bay -- charges the Bush administration rejected but which might have been taken to the ICC.
But observers note that the Obama administration already is cooperating with the court in a clear break with Washington's previous policy of ignoring it.
The administration backed the ICC's decision earlier this year to seek the arrest of Bashir. And Clinton restated in Nairobi that Washington supports the charges and considers the ICC indictment against Bashir a clear message that his actions in Darfur are unacceptable.

Still Not Certain
Still, despite Clinton's remarks this week, it is not clear how widespread support for the ICC is in Washington overall.
During Obama's election campaign, his foreign-policy advisers said he would want to examine the ICC's record of cases and judgments before deciding on any U.S. membership.
That suggests that Washington -- which maintains troops in Iraq and Afghanistan and is in the process of closing Guantanamo -- may still want assurances that the ICC will not become a venue for trying U.S. forces operating abroad.
But Clinton's remarks did make it clear that Washington does continue to weigh the question of membership and may be coming to regard the ICC as more of a benefit than a threat.
So far, 110 countries have ratified the statute that set up the court. Key countries that have not done so are Russia, China, and Israel, in addition to the United States.