Members of an Islamic militia and "plainclothes men" attacked the home of a senior pro-reform cleric, Ayatollah Yusuf Sanei, in the holy city of Qom today, a reformist website said.
The Norooz site said attackers insulted Sanei, beat up some of his associates, and broke windows. There was no immediate official comment.
The reported incident took place a day after the funeral procession of Iran's leading dissident cleric, Grand Ayatollah Hossein Ali Montazeri, drew huge crowds in Qom, websites saying some chanted antigovernment slogans.
Earlier today, the semiofficial Fars News Agency said pro-government theology students had staged a rally in Qom to protest "the insult against sanctities" during Montazeri's funeral procession.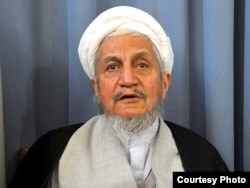 Ayatollah Yusuf Sanei
The demonstration ended outside Sanei's home, Fars said, but it was not clear whether it was linked to the attack on Sanei's house reported by Norooz.
The demonstrators chanted, "The city of Qom is no city for hypocrites," and signed a statement calling for Sanei to be defrocked, Fars reported.
One of the signatories, cleric Ahmad Panahian, said: "The trenches of the hypocrites in Qom must be destroyed."
-- Reuters